Davin had his first official school pictures at preschool and they took some of Brendin as well. He was not too amused with the lady's "The cats gonna get your nose" routine so he wasn't going to give up a smile!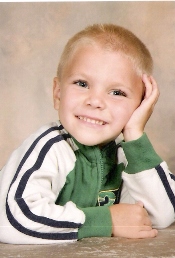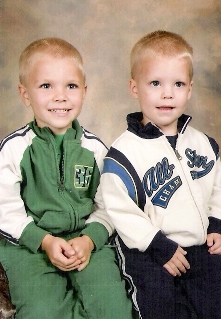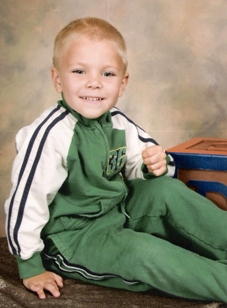 Getting some exercise at the Dennis the Menace Park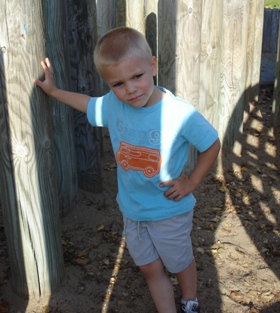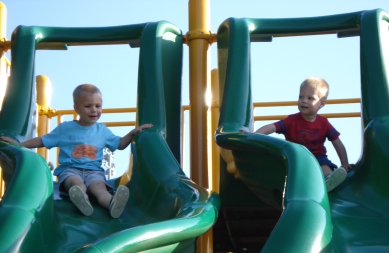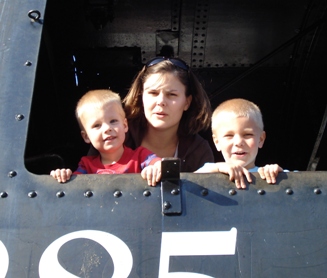 We went to Carmel beach since it was really nice out yesterday. It was nice there; was no wind at all. The boys had a lot of fun and Jeremiah got some decent waves!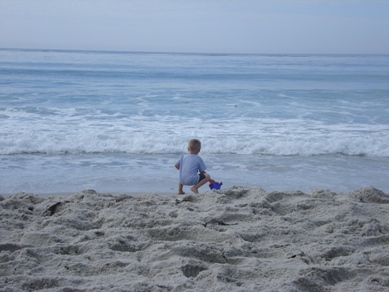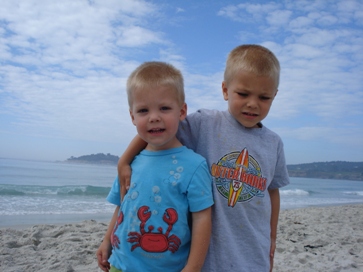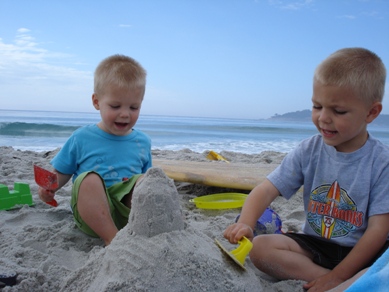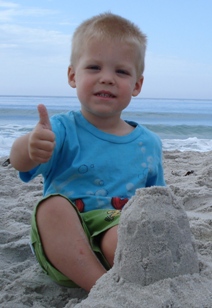 Ok Davin…smile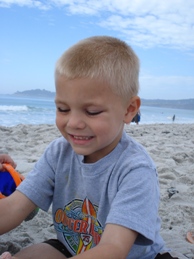 Too Much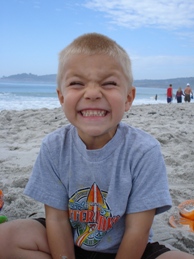 Not Enough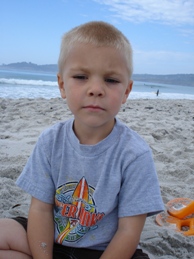 Too Silly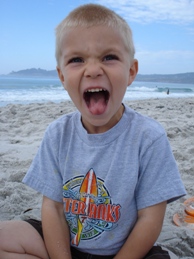 There we go!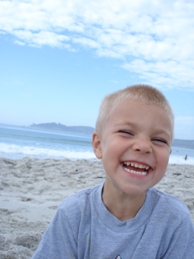 We took a drive to the Pumpkin Patch last night. Davin went on a field trip on Friday to a pumpkin patch but he wasn't sure if this was the same place or not! They had some HUGE pumpkins as you can see in some of these pictures. The boys picked out some perfect pumpkins, we'll have to see how they turn out!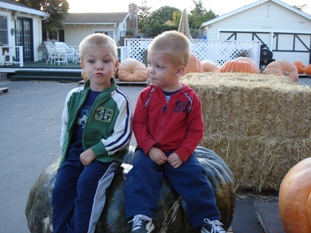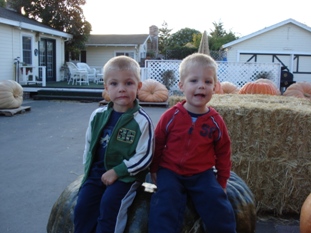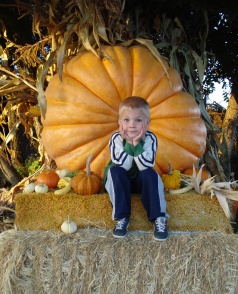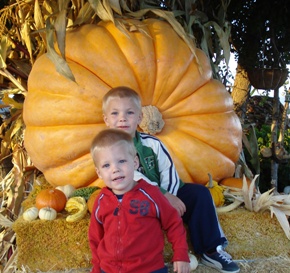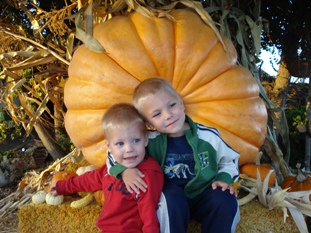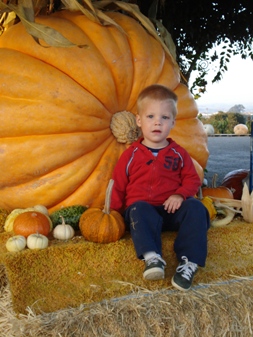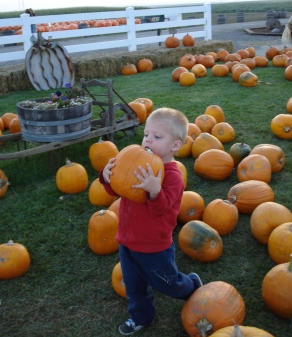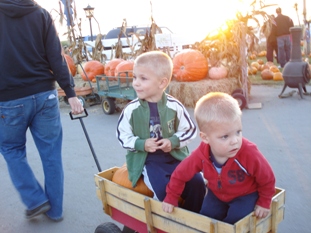 Davin waiting on the sidelines with his 'twin' Charlie!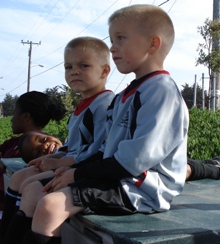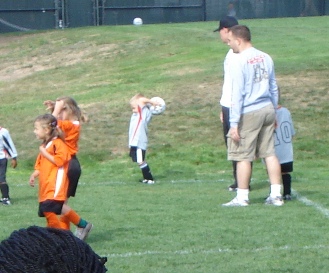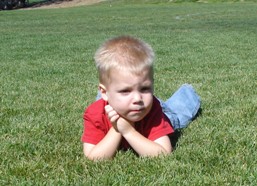 Grandpa Dave sent us a witch that looks like she ran into the door/wall. . Davin was trying on the hat. The boys love it when she talks, she says things like "That's gonna leave a mark, can you help me?"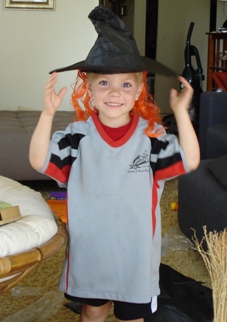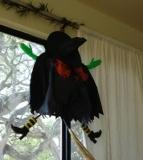 Davin taking pictures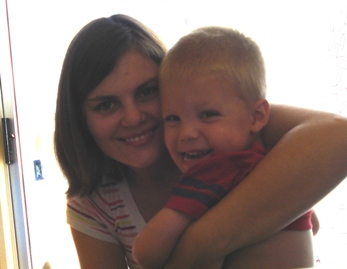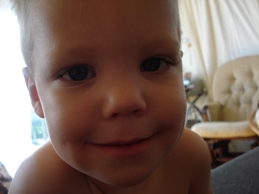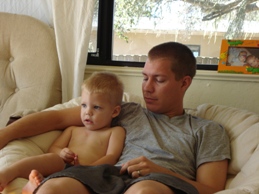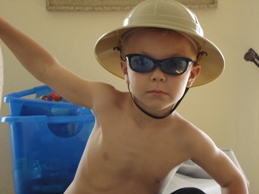 There was a kid fair at the fairgrounds by our house. The best part is that it was free admission, free rides and free games! The boys had a ton of fun. At the end we got to see some fireman do some Jaws of Life work on a car and then a huge wrecking claw squish the car up like it was a tin can!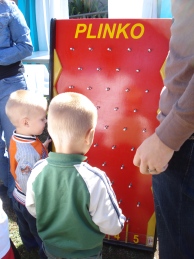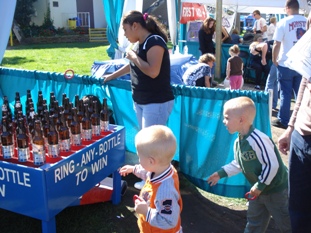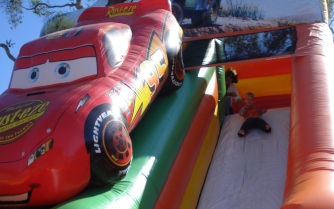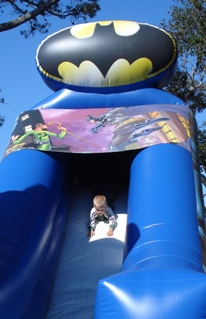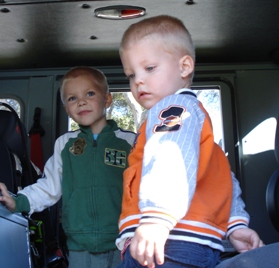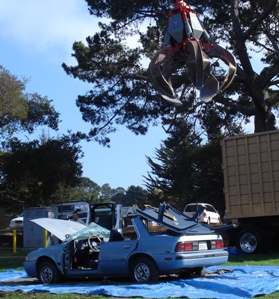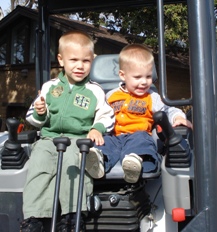 Ready for school!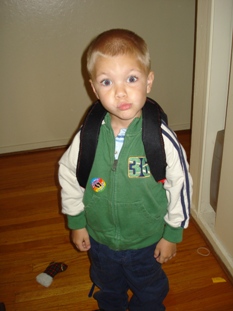 We went to an open house at the CDC where Davin has preschool. Jeremiah got to see what Davin gets to do on an average day of school.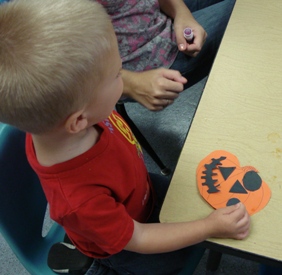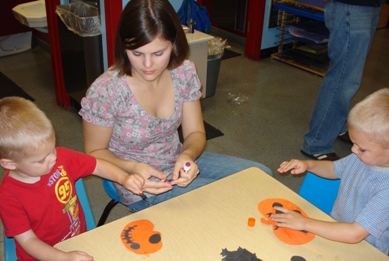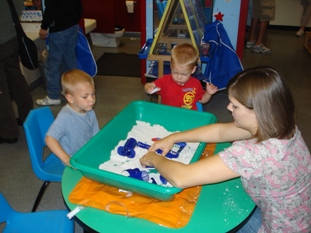 The boys' new friend Anthony!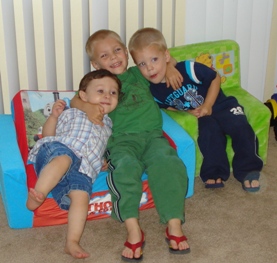 Comment? [4]
---

Well August turned out to be a beautiful month and September is staying equally as nice. We should have lots of weekends at the beach to come. Davin has been doing great in preschool and Brendin talks about 'pretty school' all the time. They had a parents night out at the CDC where Davin goes to preschool. They watch kids one Saturday evening a month so parents can go to dinner and a movie or whatever they want. We told the boys it was a preschool party that they were invited to. They had a great time and both went to bed on little cots there! I have no idea how they get a ton of kids to sleep in a room with toys but they were all sleeping when we got there a little after 10:00. Brendin wants to go again really soon!

Our friends Ed & Sarah came to visit and brought their cute little girl Autumn, we had lots of fun and it was nice to see some familiar faces!

Davin started his games two Saturdays ago and he is doing great. He scored 2 goals in the first game (he's going to score in the first picture) and even had an assist. One of his goals was with a 'slidded kick' (Davin's term!) and was pretty sweet! His second game no goals but his team still won. He doesn't know if they win or lose their games and doesn't care, which is great! There is a kid on his team who looks way too much like him! It's hard to tell them apart from far away.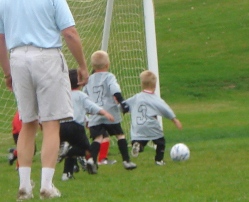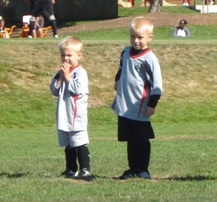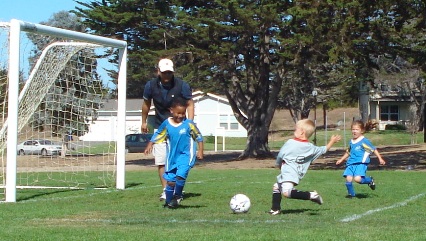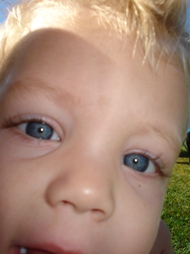 Eating at the Forge in the Forest in Carmel.


I know Ed wants me to put this picture up… I guess I can do that for him.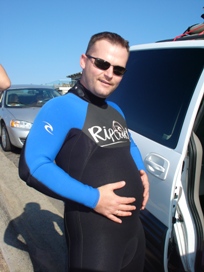 Autumns first feel of the beach!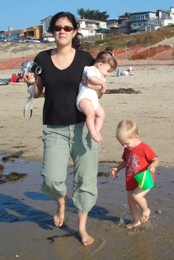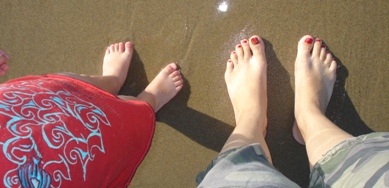 Jeremiah and Ed surfing…we thought we saw sharks…but it ended up being dolphins swimming really close to the shore. So the guys got to surf with dolphins and some sea lions.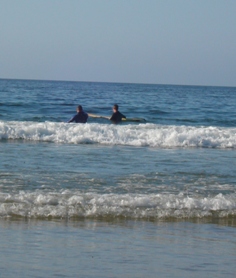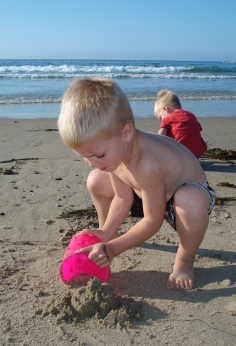 Having lots of fun getting buried in the sand!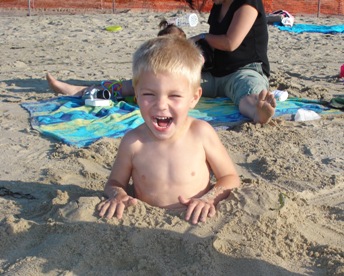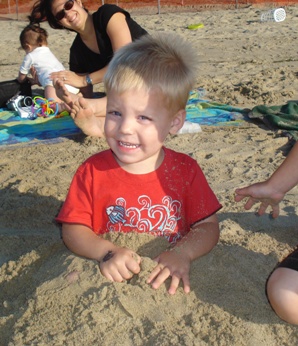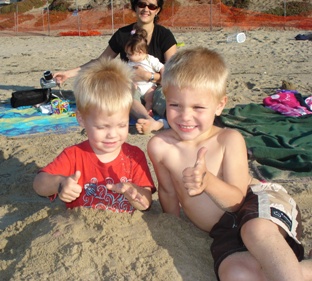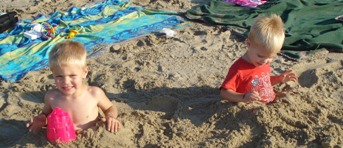 Pantless stick fighting in the yard.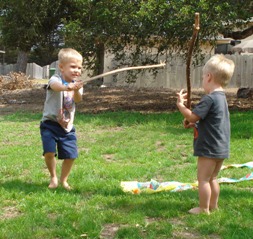 This was a HUUUUUGE artichoke! We got two of them from Trader Joe's and they weighed more than a pound each and were sooo good.


Playing out in the mud and sprinkler.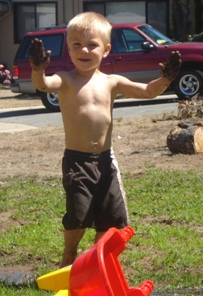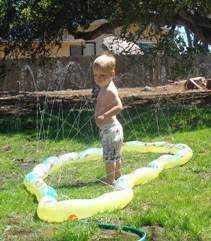 At the Monterey Bay Aquarium. This is supposed to be the best in the US and we agree. It is huge, we only saw about half of it and will be going back soon. They have touch pools, a wave aquarium to simulate what it looks like when waves crash in the ocean, and cool information stands that have metal creatures you can touch; they light up and then give information.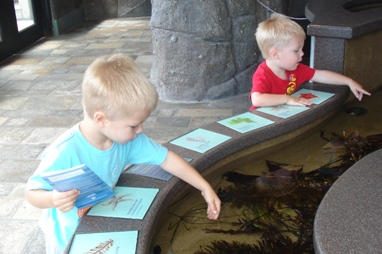 Two fish….looking at two fish!


I walked in on Brendin sleeping with his face on the floor on some books! Didn't look too comfortable.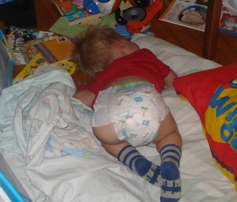 Our turkeys came back for a visit and the cats were having a talk with the raccoons!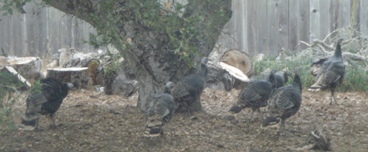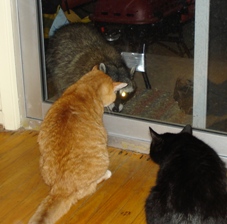 THe boys first helped wash Autumn and then decided they need to hop in!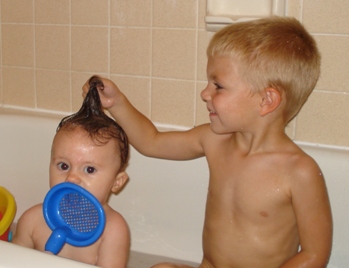 Davin was so great with Autumn, he talked to her, made silly faces to get her to laugh, rubbed her back and gave her some of his old toys.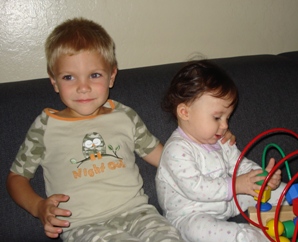 Haircut time! Davin helped cut Brendin's hair and also was the photographer! Brendin wasn't angry…but he was making angry faces for the camera!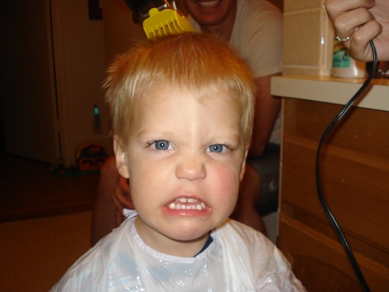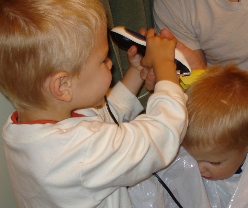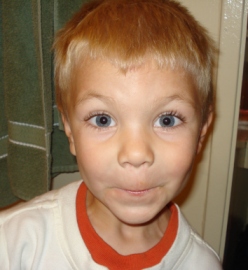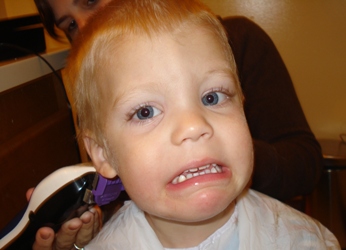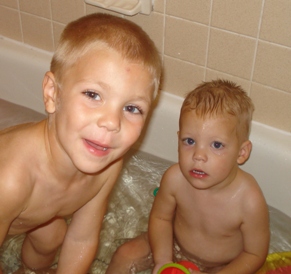 Comment? [2]
---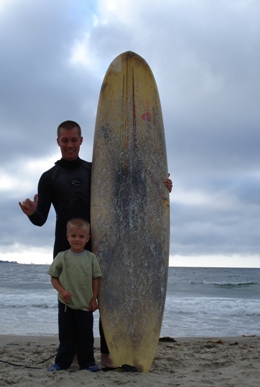 On the beach watching Daddy surf with his new board…and tossing around some sand.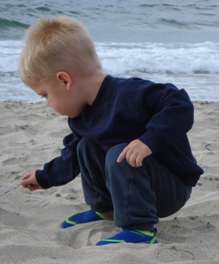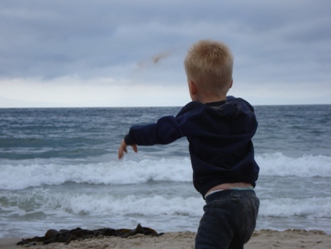 Outside enjoying the fire and roasting some marshmallows. Brendin has the Grandpa Dave pose down!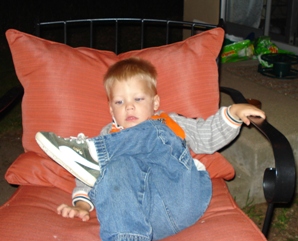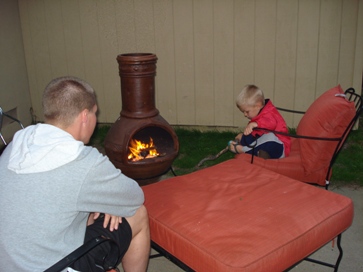 Gearing up for a paddle boat right.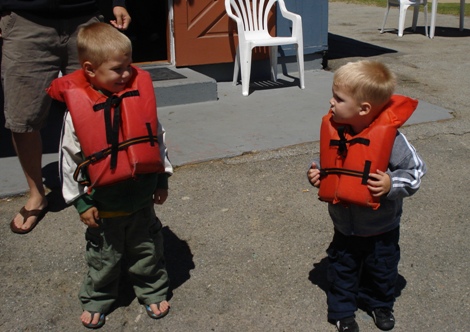 Do you think the paddleboat will fit through there? No, not really, but of course Jeremiah had to try it!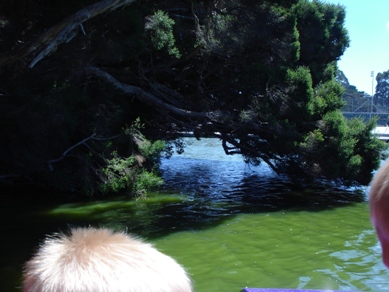 Davin, really prepared for a wipeout!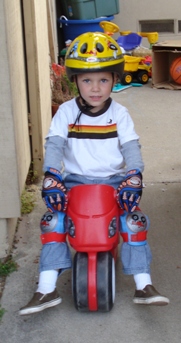 The Dennis the Menace Park in Monterey. This is the coolest slide I've ever been on!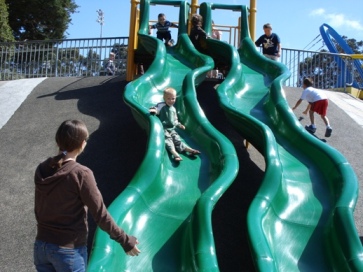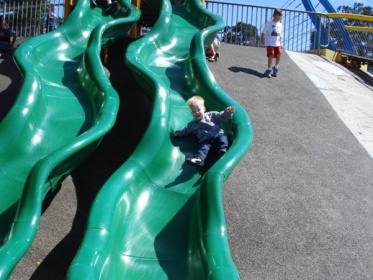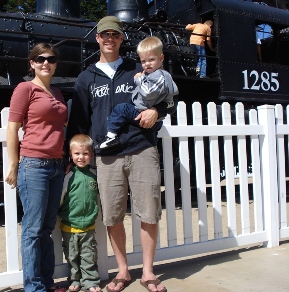 Davin, ready for school! I had decided I was going to homeschool Davin for preschool this year because it's about $500 a month out here. Luckily even though we were #31 on the wait list with only 40 spots available we were called last week and they said they had a 2 day slot open. Davin was soooo excited! He did great both days last week. He asked me on the way there if this was a school where the Moms and Dad's left. I told him yes and he said "Okay!" Brendin on the other hand didn't want to leave Davin there! We got into the car and I thought he was going to cry! He kept asking where Davin was and told me I needed to go back and get him. He got over it once we got home. The preschool is in our housing community so it's only a few minutes away.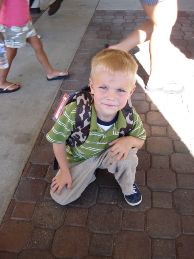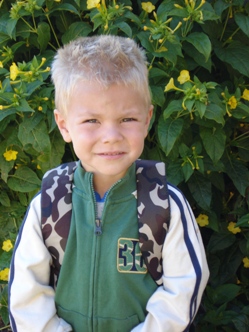 I volunteered to be class photographer on Thursday so I stayed the whole day. Brendin loved being able to play all day! Davin didn't even talk to me but once. He came up and asked why I was taking so many pictures of him! I'm so happy he's independent and outgoing.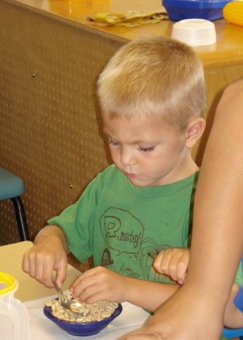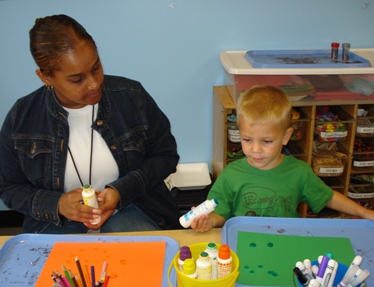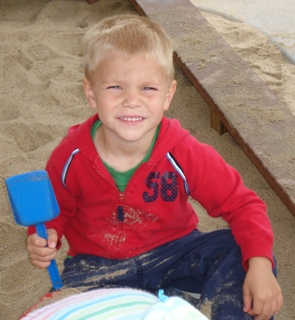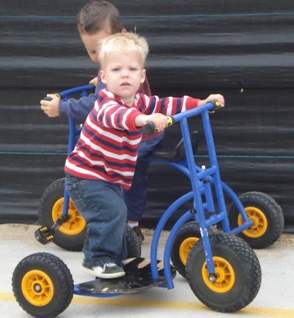 Brendin in his big boy bed that was ready and waiting for him when we drove in from SD. He did great with it and didn't ask where his crib was at all.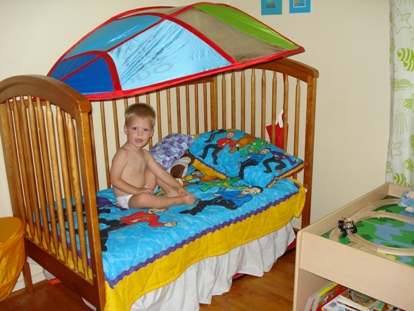 Davin posing and showing off his room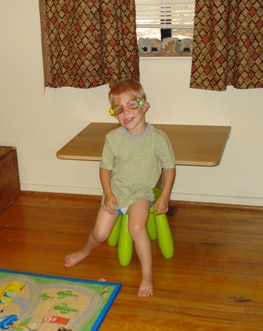 Chuck E Cheese time!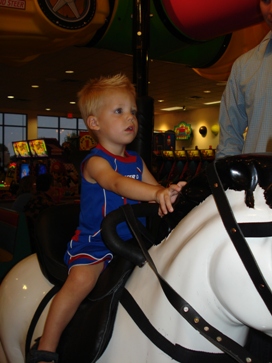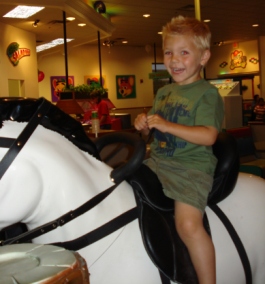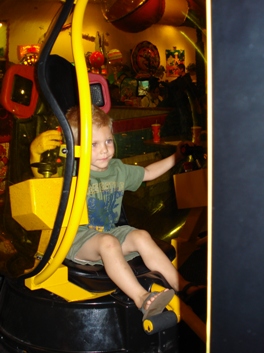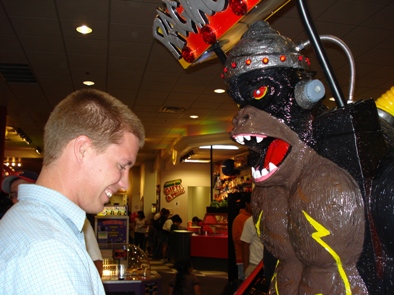 We planted a lawn and one day we woke up to this….it looked like a scene from Tremors! We aren't exactly sure what it is that's doing this but it's ruining our lawn.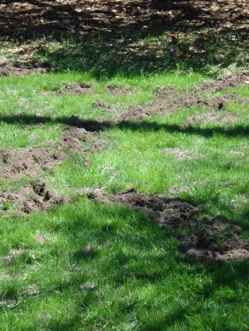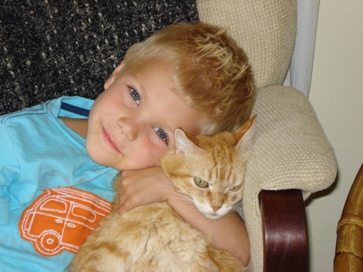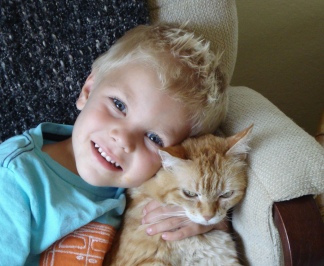 I noticed some animals outside the other night and saw a Mama raccoon watching out while her 4 babies drank all the nectar out of my hummingbird feeder! We fed them some bread and let Davin come out of his room so he could see them. Then the next night….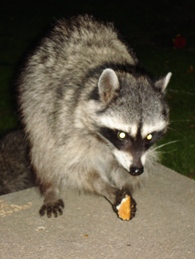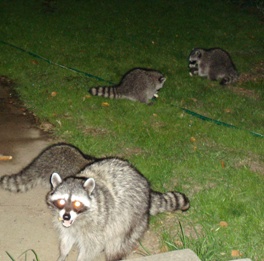 A SKUNK! Then a few nights later while we were outside he came walking on by, didn't even care that we were outside. We ran in just in case one of the boys would spook him. I'm not sure where the turkeys are…we haven't seen them in a while.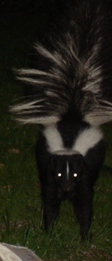 Comment? [4]
---
Well we got our new camera, and it seems to be great! Much smaller than our last one, a lot cuter too!

Davin had a British Soccer Camp all this week. It was two hours a day Mon-Fri. He had a great time. He really liked his coach and loved the ball and shirt they gave him. He learned some new skills and lots of fun games. It should come in handy come soccer season which will be starting soon. I can't believe how much he loves soccer. He was the smallest one out there but definitely the most determined and driven kid. There were a lot of mopers and kids messing around.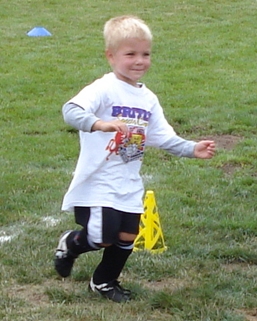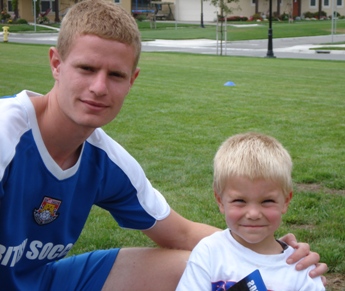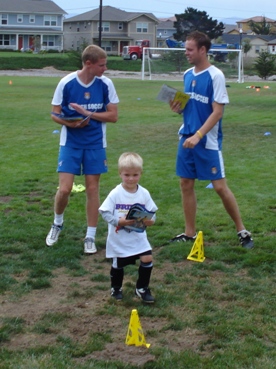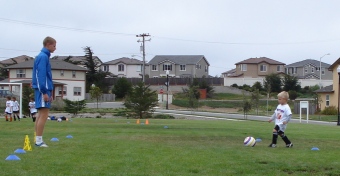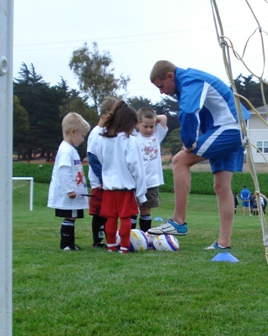 Racing to get the most soccer cones, Davin won!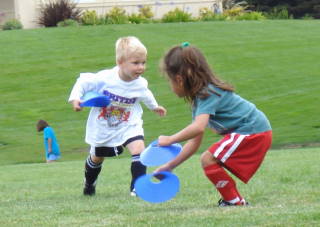 Not sure what move this is but I'm sure it helps confuse the other team!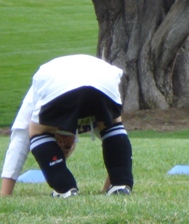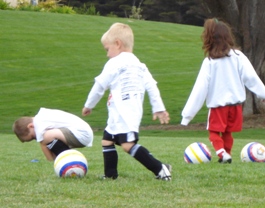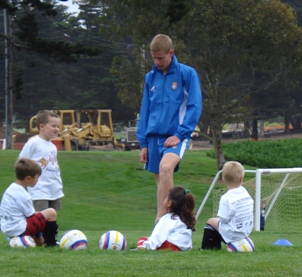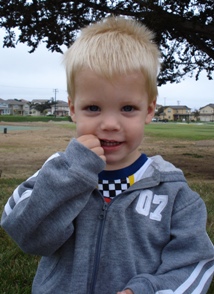 We put a tire swing up in the backyard. Even though the park is just one house away we have the perfect spot for a tire swing. There's lots of leaves on the ground, it's permanently fall under this tree, so the boys don't get hurt getting on or off. We ended up switching branches because I saw three woodpeckers going in the branch we initially planned on using.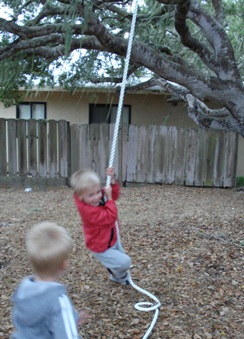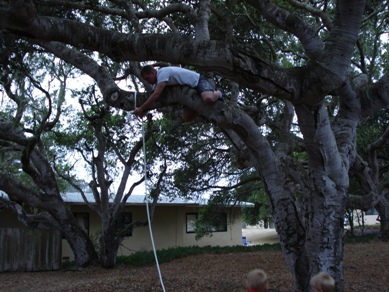 One of our woodpeckers.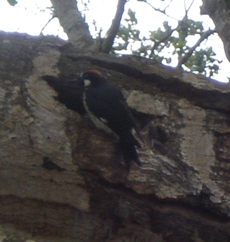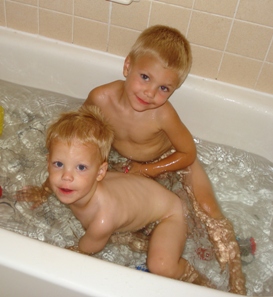 Brendin dropped a can of food on his toe and lost half of his nail, poor guy! He keeps saying his toe or toenail is broken. Hopefully it heals and grows back soon.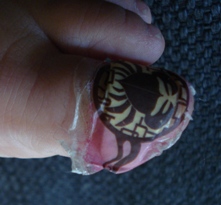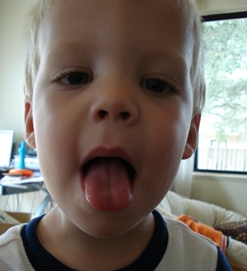 Davin had me taking pictures of him playing hockey.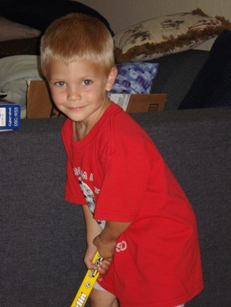 Working on the motorcycle.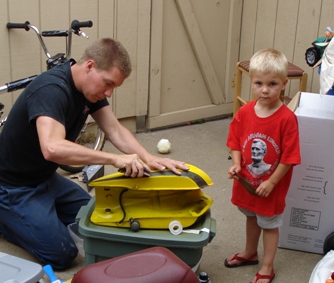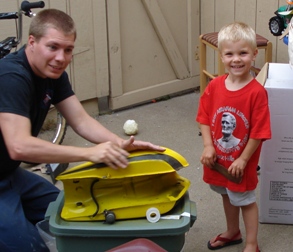 Comment? [3]
---
Here they are! The before and after pictures of the outside of our house in South Dakota. Hopefully I'll get the indoor ones eventually. My camera hasn't been working so thanks to Ben for taking these outdoor ones. I'll see if he can get some inside ones, I only took a video of the inside. I do know that I cringed looking at the old interior pics! It is a totally different house now. I miss it!

Old front door, steps and sidewalk.


Before picture of carport and front of house


Before picture with no window to the left of the tree.


After, with garage, front deck, new door, lamp post, landscaping…


Close up of front after. Showing the flagstone sidewalk we put in and the deck with the angle. And of course, my red door!


Back of house before, the white door is now gone and the large window with the a/c unit is now the french doors.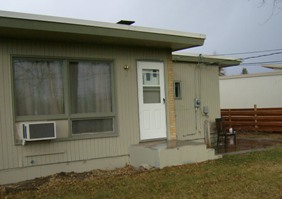 After we took out the HUGE window we put in the french doors and wrap around deck.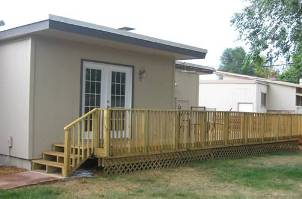 Where the deck wraps around to the side door.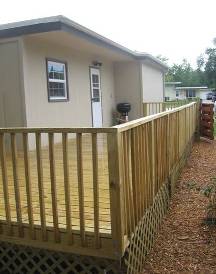 Back of house where brick was exposed and all these wires and boxes. We built a wall to cover them all up and were able to put in a new light.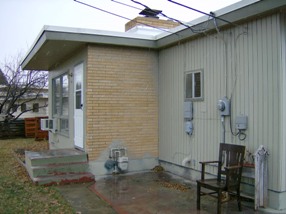 Showing the wall covering all the utility boxes and wires.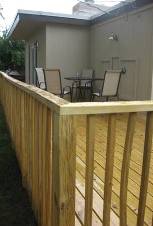 Back of house where the air conditioner is. Before: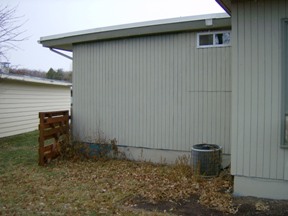 After! We put in a flagstone landing that slopes down from the deck. I also did some landscaping to take your eye of the a/c unit, which of course wouldn't work when we fired it up in 107 degree weather right before I left!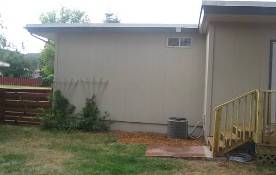 Another shot of the back deck and french doors.


New windows on the side of the house. These lead to the three bedrooms upstairs.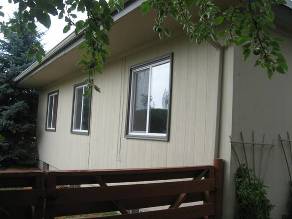 The old yard….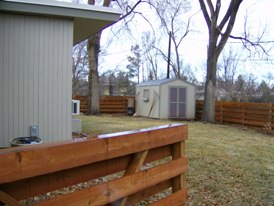 The new yard with newly painted fence. I also used all the leftover flagstone to make a walkway from the shed to the grass so that you wouldn't have to walk over the landscaping wood chips that I put down.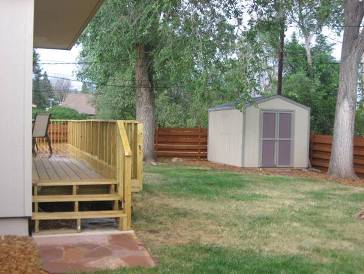 Some more of the landscaping…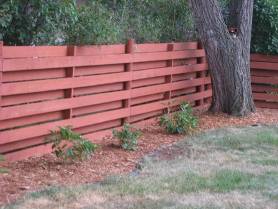 Thank you to everyone who was able to stop by and lend a hand! And a BIG, HUGE, EXTRA LARGE Thank you to my Dad who literally moved in with us to help since Jeremiah had to leave early for California. You rock! XOXOXOX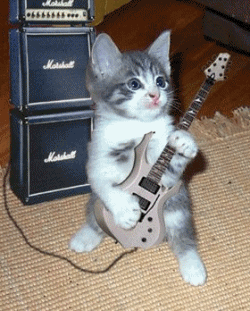 Comment? [3]
---
Davin digging for dinosaur bones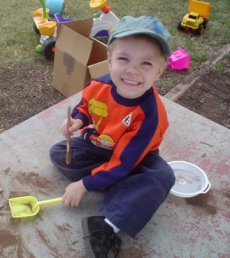 Hanging out with Stephen…whether or not he likes it!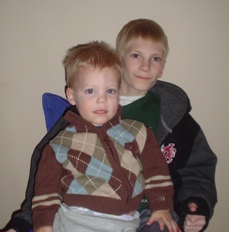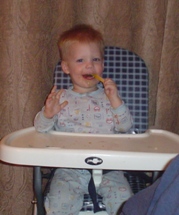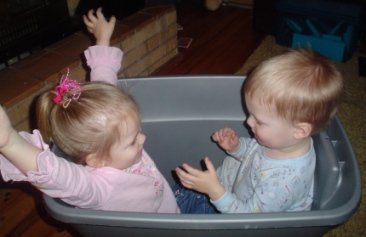 Playing some air hockey with Gramps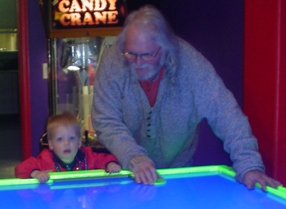 Checking out the nice cars at the car show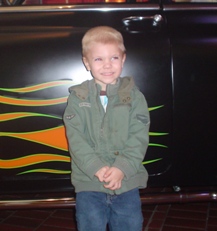 Teaching the boys a little home improvement!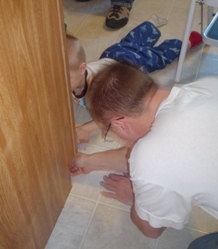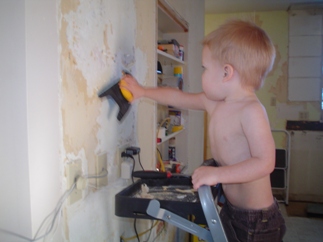 The monstertuck show…which was pretty boring compared the the one in Salt Lake but they really like the demolition derby.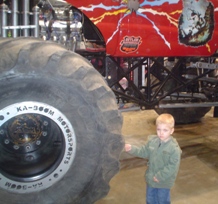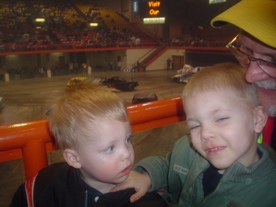 We took a little detour the other week to get away from the remodeling. Davin was napping and woke up to Mt Rushmore, he was very excited.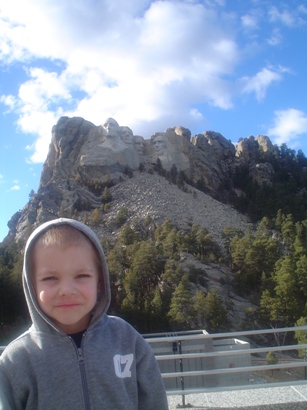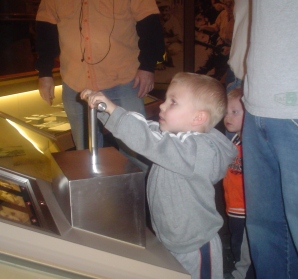 The boys love Chuck E Cheese!!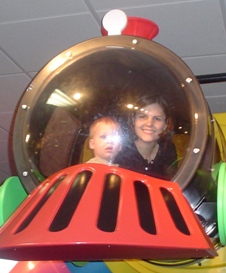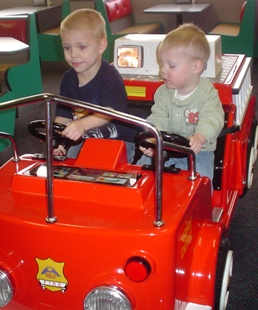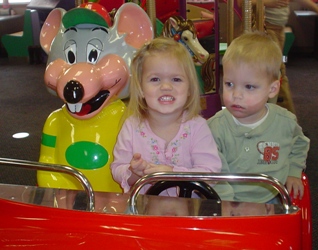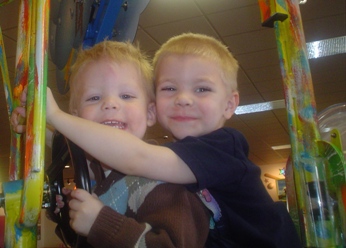 Grrr!


I went into Brendin's room to put some clothes away and found him sleeping like this…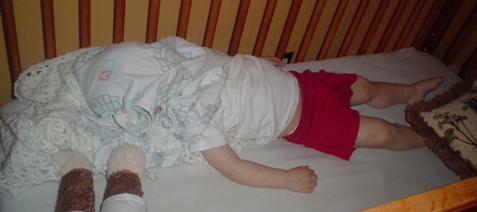 Hanging out with cousin Noah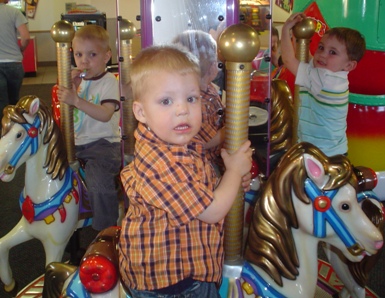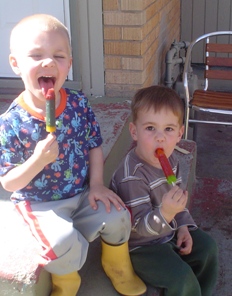 The boys playing in their Bonnie Sled as Davin calls it: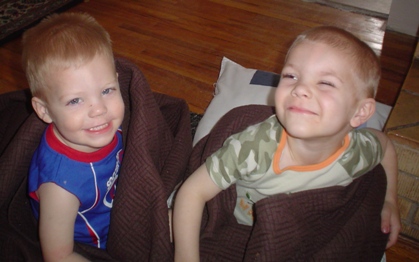 Showing off his new Night Owl PJs.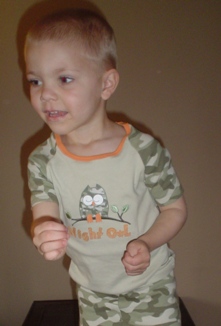 Jeremiah's birthday present came from HI with dry ice…boy was Uncle Dana excited to see some of that…the dry ice that is!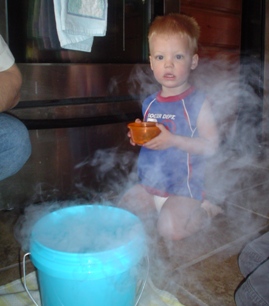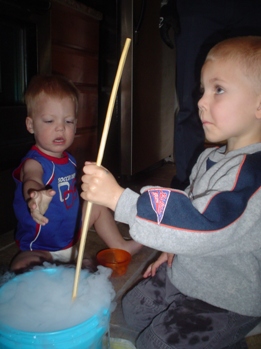 Noah needed some friends to hang out with while Mom went to a meeting…to pass the time we had Davin rides!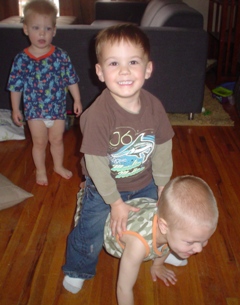 Jeremiah's birthday penguin that Davin picked out.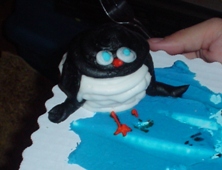 Birthday dinner….lots of seafood…shrimp, fish and chicken…it was sooo good if I do say so myself! After all these years Mom and Son wouldn't smile for the camera during the Happy Birthday song!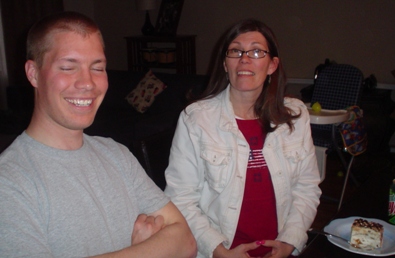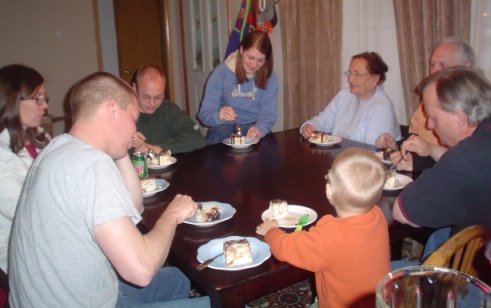 Teaching Brendin thumbs up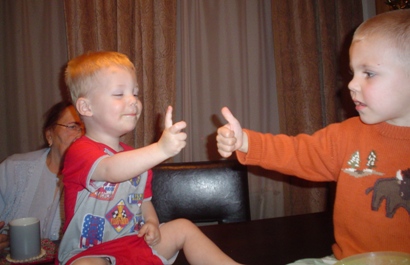 Brendin is his own canvas…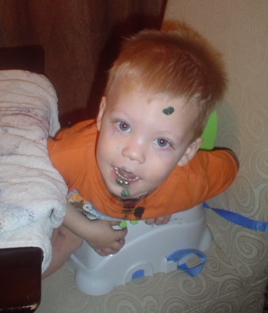 Grandpa Dave brought over some crazy spin art toy…it's pretty cool!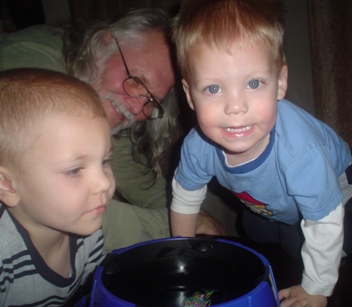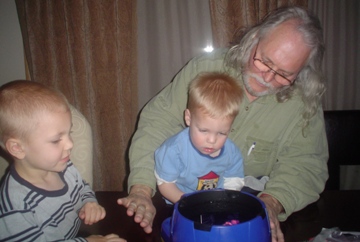 ROAR!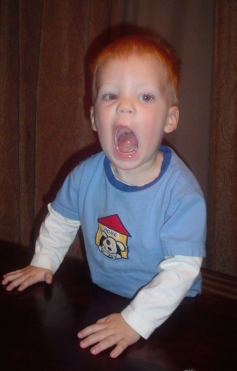 I tried to get a picture for Ed and Sarah of Davin playing with the easter toy they sent him…but he wouldn't stop posing!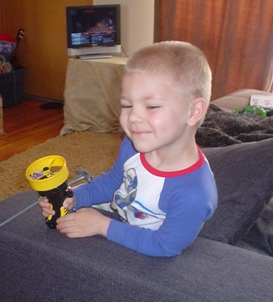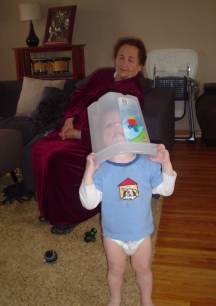 Hey Uncle Tim…PILLOW FIGHT!!!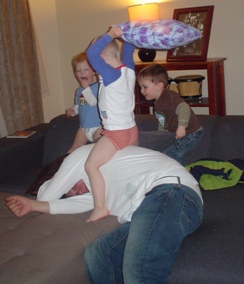 Swimming at our hotel over Easter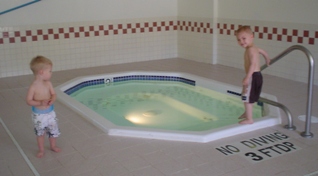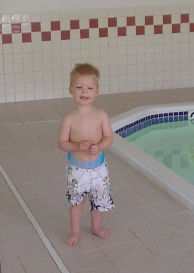 Grandpa Don at Space Aliens and Davin with his Alien cup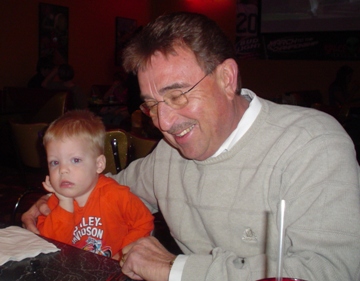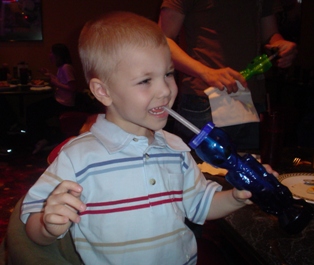 Hey those 88 cent shades came in handy!!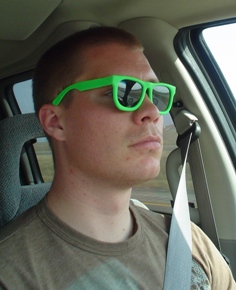 ---
Well we've de-uglied our main bathroom upstairs and thought I'd throw the pictures up really quick. I hope to get another update in a couple of days of the family pictures. But we've been busy with company and of course, this bathroom!
Before #1 & #2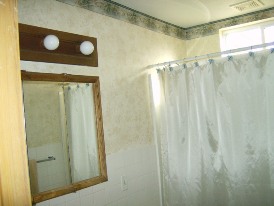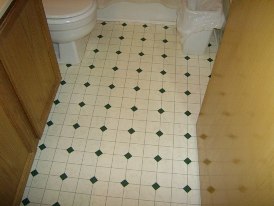 And after….ahhhhh LOVE the new toilet! It's so quiet and flushes so fast.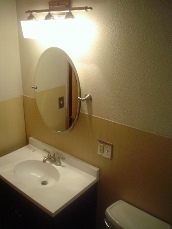 The vanity is espresso with a marble top sink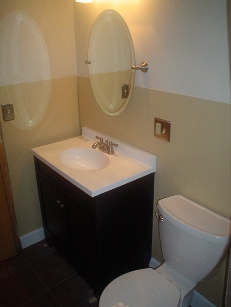 And of course they don't make this register cover anymore so I had to strip it of it's 5 or so layers of paint and repaint it…with appliance paint instead of wall paint so it actually looks normal! The walls are a creamy color on top and a buttery color on the wainscoting.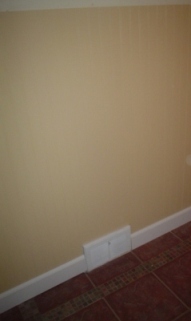 A close up of the african copper tile and border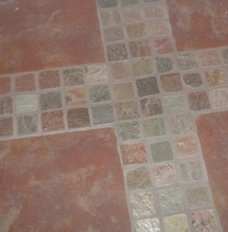 We took out everything but the tub (there was tile on the wall and a big hole behind the medicine cabinet…of course!). We had to patch and retexture the walls since the wall paper border was glued up with a hot glue gun (did I mention that I despise any and all wallpaper at this point??). We had the tile all laid out and ready to thinset down when Brendin a.k.a. King King went on a tangent and knocked a stool over and broke about 5 tiles…the tiles we were using were left over from Salt Lake so we had NONE to spare. But, this tile, even though we had all that extra work, looks a lot nicer!
And here's our new kitchen, not the greatest pictures but I'll get more up soon. The best feature of my new kitchen is the push button for the disposal. It's in the sink, where the sprayer would normally be. So no more drying off your hands so that you don't electrocute yourself on the switch! We put in large tile, a dishwasher and disposal which it iddn't have before. An over the stove microwave..pretty much everything is new…including the wiring. These walls ALL had 3 and 4 layers of wallpaper. The bottom layer was horrible looking…looks like George Washington on a horse! It took me, not days but WEEKS to get all of it off. And yes I tried fabric softener, vinegar, hot water, wallpaper stripper. Everything works equally BAD!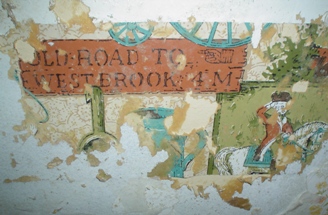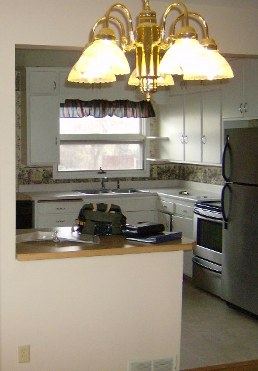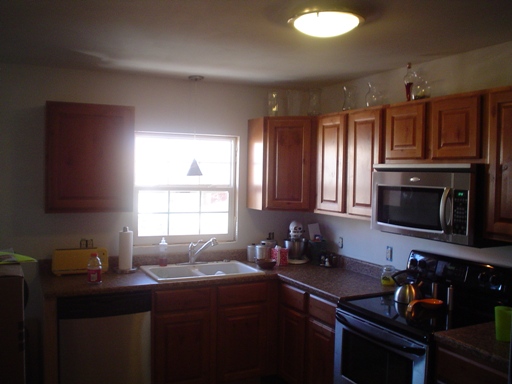 I will get more pictures up in my…spare time! Hope everyone is having a great April! And Happy Birthday to Jeremiah (a few days ago!)
Comment? [3]
---
I figured it was time to post something now that I feel like I have more than 5 minutes to spare.
We've been very busy! We have packed up and moved back to South Dakota…for what reason we are not quite sure but we are close to family for a while and that's what counts! We are remodeling our house and trying to unpack. Jeremiah got a job here at a car dealership and swore into the Air National Guard after leaving the Air Force. We will be going to school in CA sometime this Fall or Winter…wahoo can't wait for the warm weather!!
So here are lots of pictures from BEFORE we misplaced our camera…it appears we need to get a new one. So there will be no pictures from about Jan 30th to now…and until we get a new camera!
Playing in the bath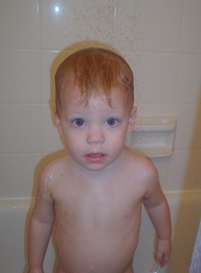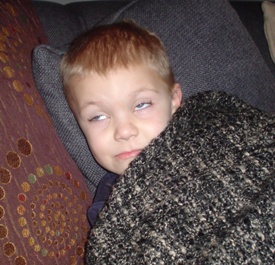 Brendin's first encounter with playdough…he loved it and hated it at the same time.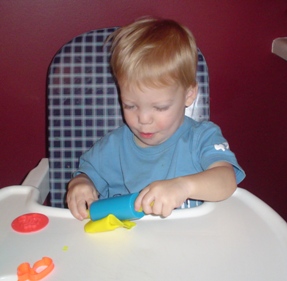 New rug and new couch…they were quite the entertainment.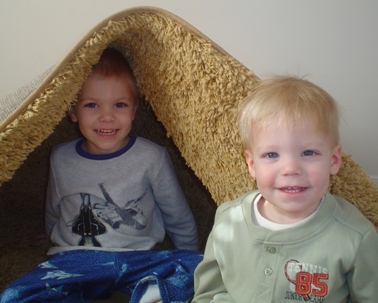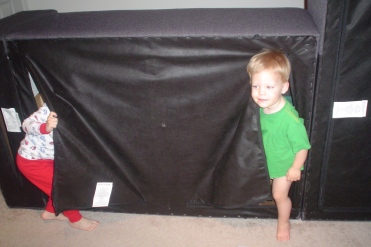 Davin's beautiful snowman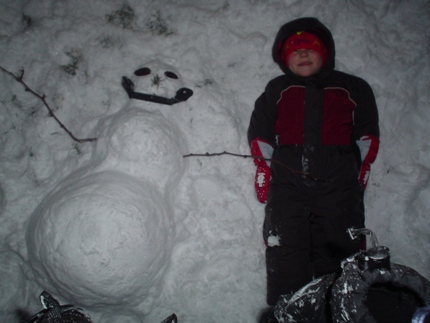 Baby it's cold!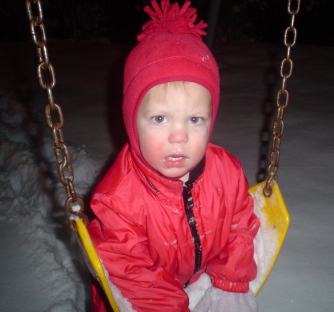 Davin color spraying the snow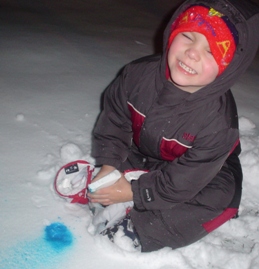 Brendin deciding that he loves the snow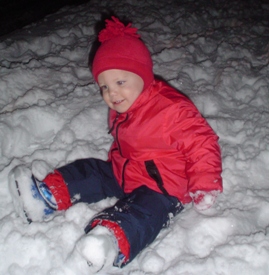 We had the Somali family over for a visit before we left. I made them dinner and we watched some cable tv, which was very exciting for Rashid, the dad. The kids had a lot of fun playing with the toys and the cats.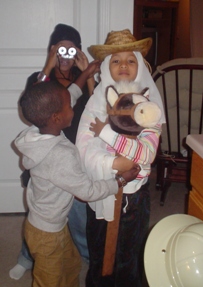 And even though they said they didn't want to…we made an executive decision and took them sledding on the way home! We had to borrow them lots of mittens, hats and scarves…as well as the socks off my feet for Fahmah! They had a lot of fun but the mother and father were so concerned about being cold…they think you can die in the snow! They apparently have been to ND!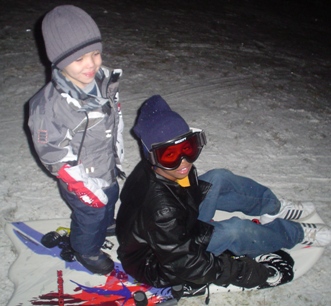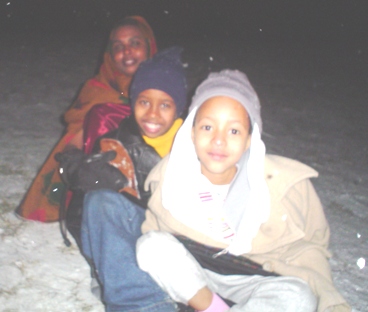 Brendin, ready for Mardi Gras!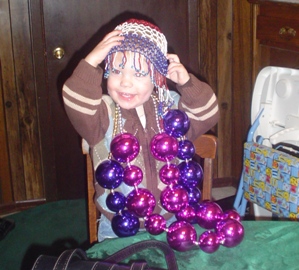 Christmas at Grandma Berts, the kids playing Ring Around the Rosie with Elise.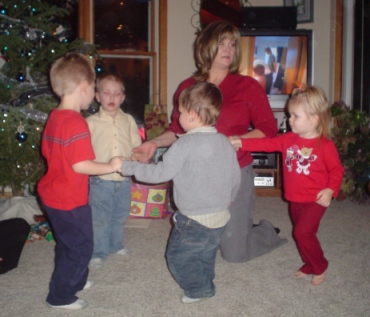 Davin and Noah hanging out in the arcade.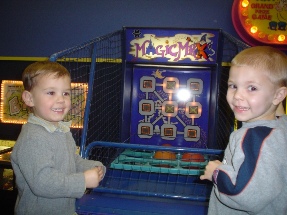 Hmmm Santa…that's a good question… After we got done with Santa he said while shaking his head "But that's just not the real Santa Mom". But didn't seem to care either!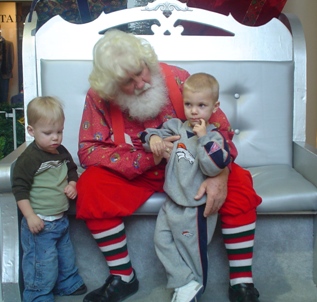 They really love eachother!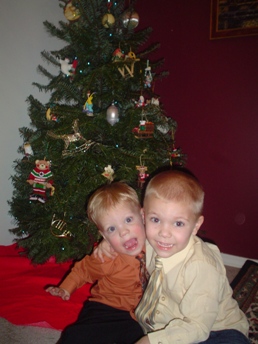 One of our family Christmas pics for 2007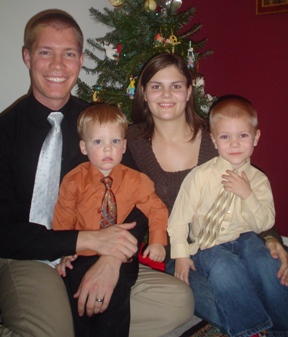 Lots of pictures from the new HUGE Children's Museum in SLC.
Working construction: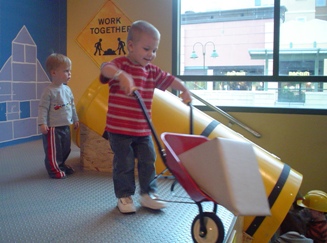 Putting up wallpaper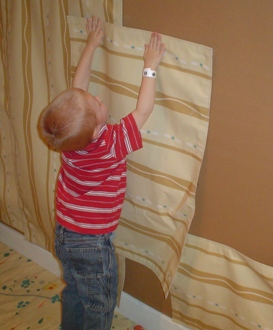 Slaving over a hot stove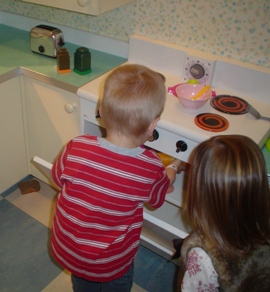 Delivering Mail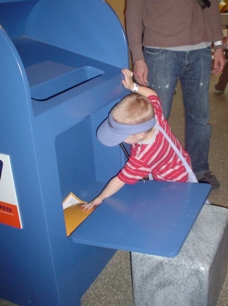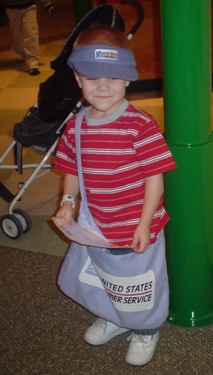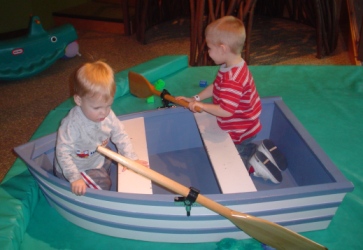 Working at the Deli counter and then at the checkout counter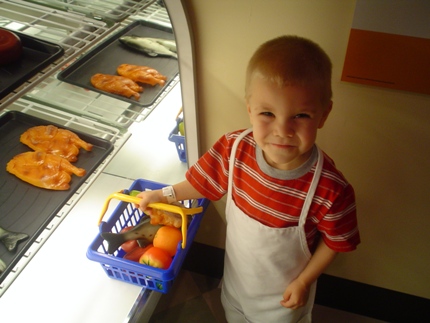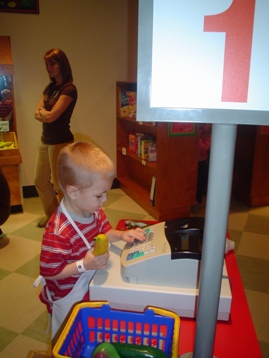 Tending to the hens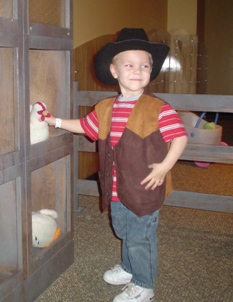 Flying a helicopter and then working as an air traffic controller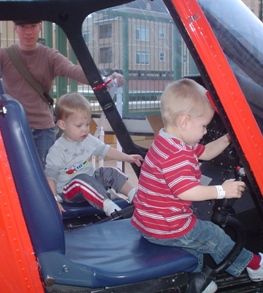 Brendin…in ball world!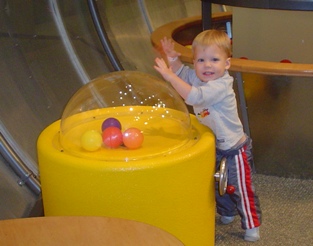 Once again…sorry for not posting for sooo long. We've been incredibly busy. So we didn't fall off the face of the earth and would love to hear from the rest of the world on what they are up to. jj@mollman.com
Comment? [2]
---
We have been busy! Jeremiah has been doing all kinds of stuff getting ready for a new job. His last day of Air Force active duty will be on January 30th but he'll be on terminal leave for most of January so he won't actually be working. We are going to list our house this week and hope that it sells fast. We are planning on moving back to SD for a few months to be close to family. Then we'll be moving to CA. Jeremiah will have schooling there for becoming an airborne linguist in the Air National Guard. So this will be an extremely busy month (probably months) for us. We will be back for Christmas and will be staying until after New Years so that we can celebrate Wally's Birthday party. Can't wait to see everyone!


Business Davin on the phone with Uncle Ben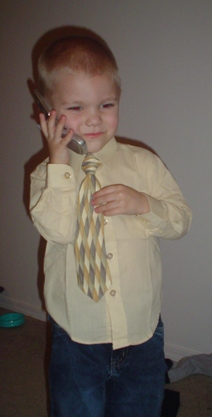 Brendin having fun at his second haircut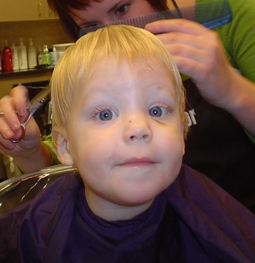 Davin next to the tree his Sunday School class decorated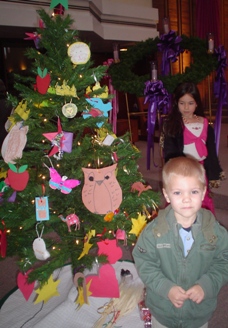 We contacted the Hogle Zoo and they allowed the refugee family that we are mentoring to visit the Zoo for free. It was a little cold, especially for them and they were a little sad to not see the elephents, zebras, lions and other African animals that they were hoping to see. Hopefully they can go again in the Spring.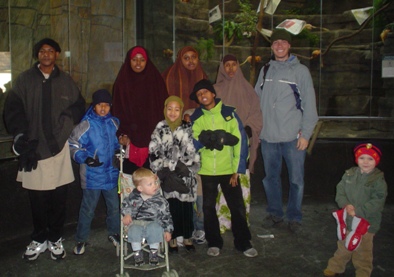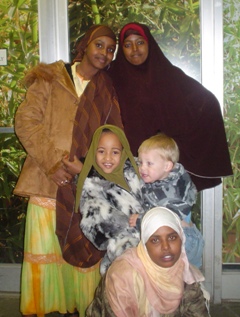 Brendin…disgruntled about something!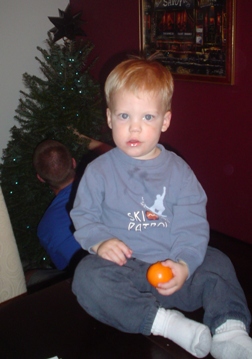 Merry Christmas!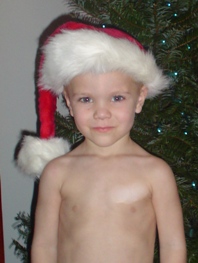 Brendin decorating the tree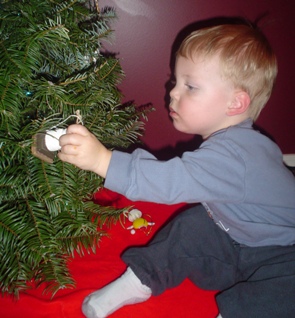 All dressed up and ready for Christmas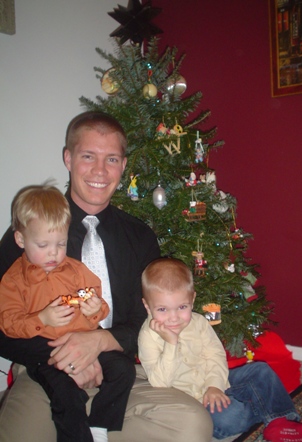 Oh no a tie!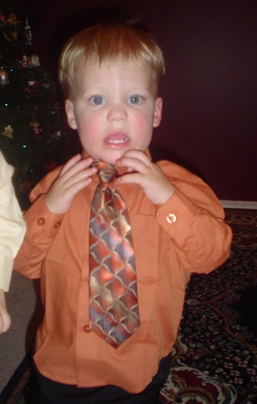 Click for Brendin finding the wall and climbing out at his swimming lessons.
Comment? [4]
---
Turkey Day ·
posted Dec 1, 03:28 PM
We had a nice Thanksgiving this year in Denver. It was so much easier flying this year instead of driving. We didn't have to deal with wind or snow. Denver was really warm this year, in the 50's and higher most of the time. Davin loved having a yard that he could walk around in by himself. The boys had fun meeting 'the man with the glasses' or Uncle Dana.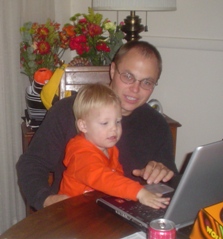 Playing a game called "Would you Rather". Grandma had to go a couple of rounds with a spoon in her mouth and Jeremiah had to shake his 'bon bon' to some mexican music!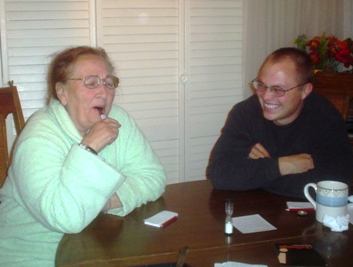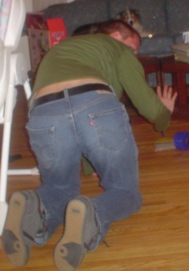 Our annual Casa Bonita trip. Davin loved it even more this year than last.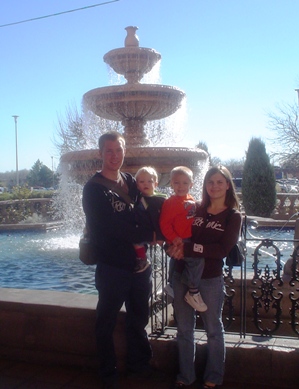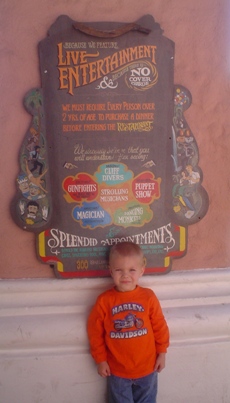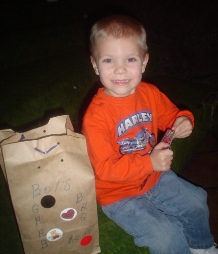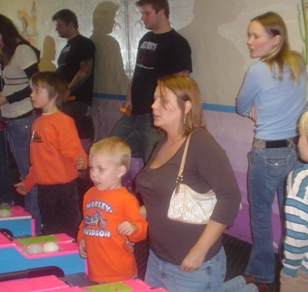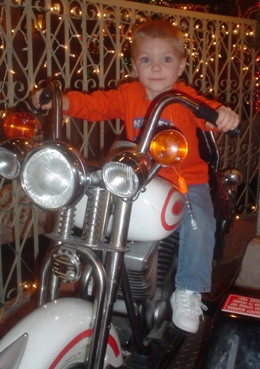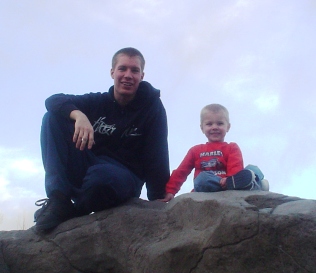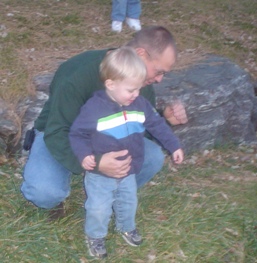 Riding the light rail that they finally finished! Brendin fell asleep holding my phone but wouldn't let it go!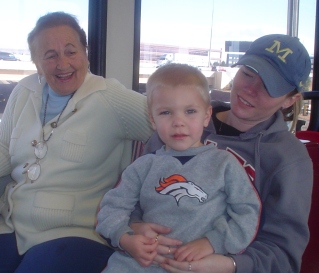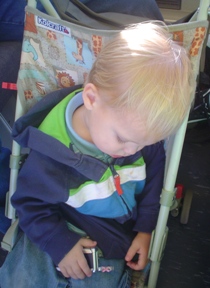 Dana riding the daylights out of this horse in the ESPN arcade.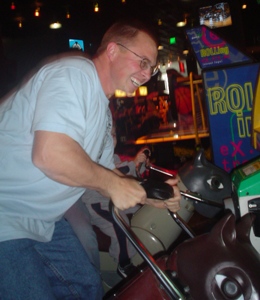 Brendin having a picnic at the same table I used to have tea time!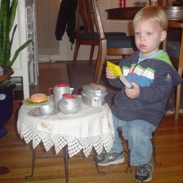 Davin Joy and puppy Riley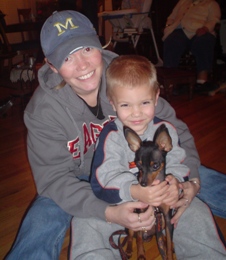 At the Elephant Bar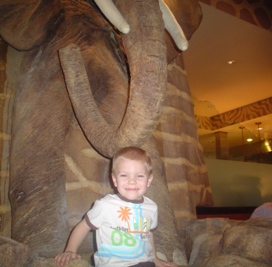 At a restaurant where Davin got to make his own pizza and help put it in the oven!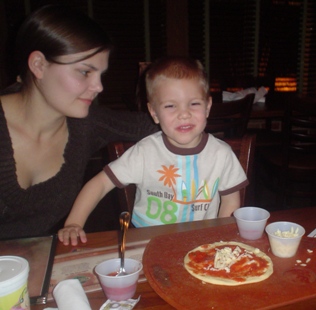 Brendin got up a little too much momentum running circles around Grandma's house and slid into her stairs. The cheek was just bruised at first and the next day the black eye appeared. This was about 4 days later and it is still looking pretty bad.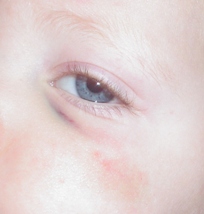 ---