Jeremiah's family came up for the weekend and we had our marriage blessed in the church. It's just like renewing our vows (can't believe we've been married for over 5 years now!). Jeremiah made me go and get a dress, which was very beautiful if I do say so myself! Not to mention the cute shoes I found. Susan made sure to get them in the shots. :o)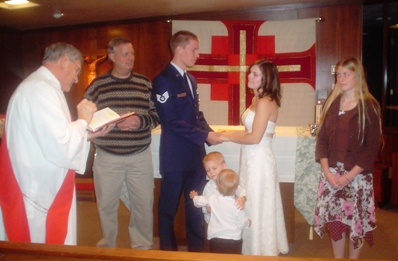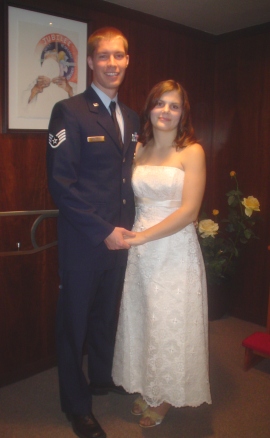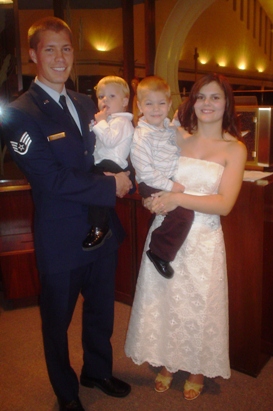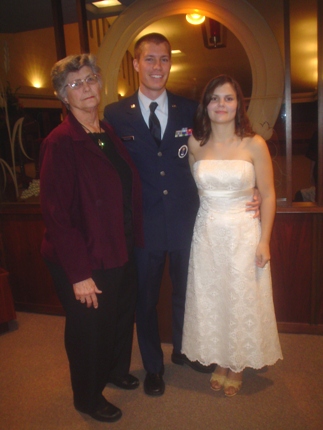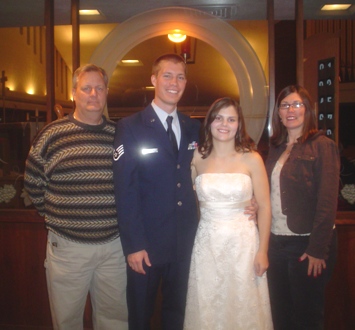 Here's Brendin, all dressed up saying "How long of a wait will it be?!" No one could decide on a restaurant so we just winged it, and like we figured, we paid the price. It was supposed to be only a 30-45 minute wait but the table they were waiting on decided to sit around for an hour AFTER they paid their ticket. So the manager apologized and gave us a ton of free appetizers. The food was amazing, we mostly ate seafood, so it was well worth it. It's hard to get that kind of food in SD. But talk about two great kids. We got there around 7, after sitting in a church for an hour and a half, and didn't get home until 10:30! The kids were great, it couldn't have went smoother, especially since we were anticipating problems since Davin didn't take a nap with all the excitement.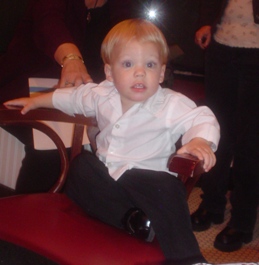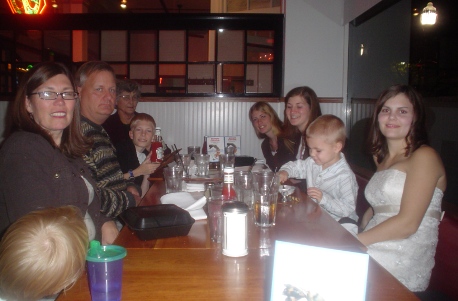 Brendin wanted to take some pictures, this is where we were sitting taking family pics a few weeks ago. He'd say "I sit down, I sit down". And then wait for me to take his picture. He's been saying a lot of short phrases and says his "S" words so much better than Davin did. It took us a long time get Davin to say snake instead of nake!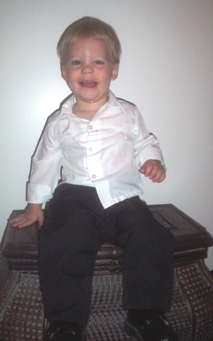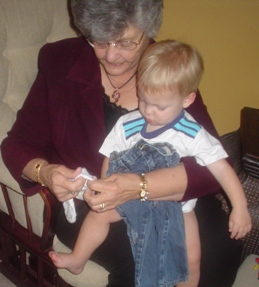 We want to thank Jeff, Susan, Anna, Stephen and Grandma Bert for driving down to see us and Rachel for flying in to see us on this special day. We had a nice time. Hopefully you guys will get to spend a week out here some time so we aren't rushing.
Last week we were finally matched up with a refugee family. We are volunteers for the IRC, they help relocate refugees. It is a Somali family of 10. They have a little boy that is 1 year old, 3 yrs old, 6 yrs old, a girl who is about 8 and I can't remember the other ages. They have 2 nieces and a nephew in their 20's. One of them speaks English rather well so our first meeting went great. The kids had fun we had fun and most importantly the family welcomed us and was very grateful to accept our help. A couple of funny things; they were handing out popsicles like it was August-I don't think they have had them before, and when Jeremiah went to put them back in the fridge they had just popsicles and a frying pan in there!! They have never used a fridge before so we'll be teaching them a bit about appliances. The 6 year old boy was listening to me tell Davin that they speak Somali, just like at story time the lady reads the books in Spanish. The English speaking girl asked me if I could speak Spanish and I told her no. The 6 year old looked at me with a big smile and said "cómo te llamas?". The lady told the family what he just said and they all had a big laugh out of it. No one was sure where he got it from but it was really neat to hear him say that since he doesn't even know English very well. I'm just going to email the pictures to everyone on the list as I we had their permission to take their picture but it would be about impossible at this point to get their permission to post them on a website. They had a lot of fun using a digital camera for the first time. You can tell they don't quite know how to center the camera as some of the pictures aren't that great!
Oh, and a happy birthday to Dana!
Comment? [3]
---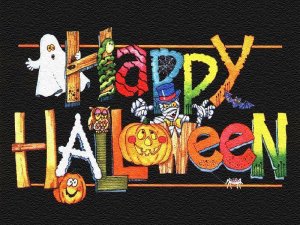 Here is a pumpkin that we entered in a contest at the Red Butte Gardens "Garden After Dark" yesterday. It's a portrait of the boys with their halloween cotumes on, Brendin has his cowboy hat and Davin has his scarecrow hat on. It's kind of hard to see but it actually turned out really good. We took 2nd in the contest.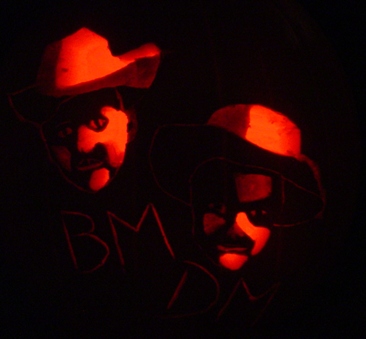 Visiting 'Aunt' Barb on Halloween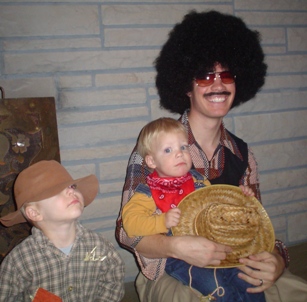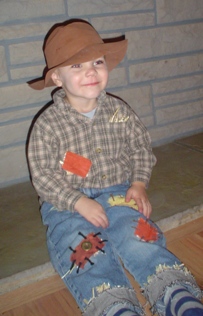 Jeremiah as 'That 70's Dad'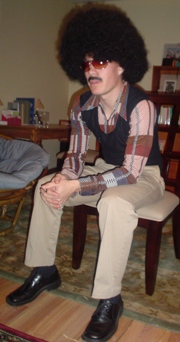 At the Pumpkin Patch picking the perfect pumpkin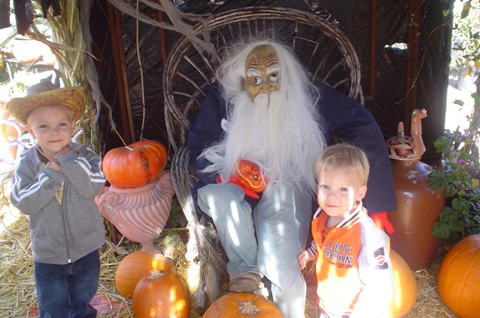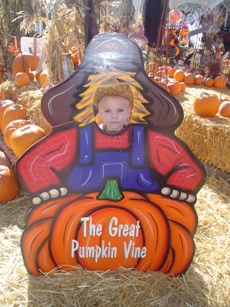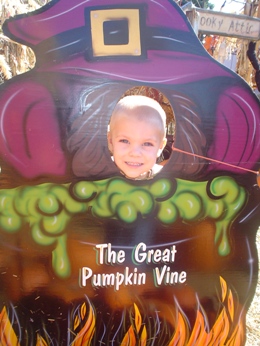 At Red Butte Gardens last night…it was REALLY cold!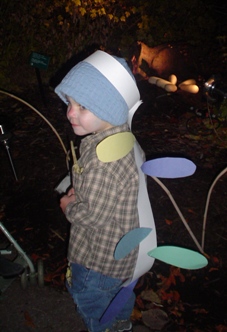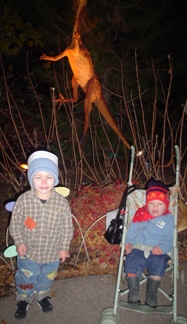 Boo at the Zoo on Saturday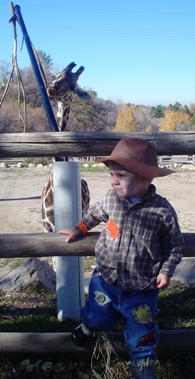 Aren't they so cute!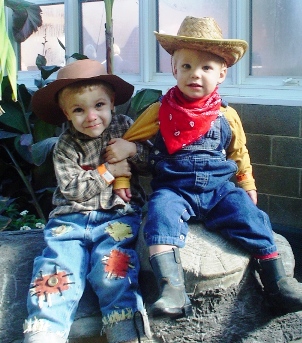 A stuck cowboy! Brendin was so funny walking around in his boots. At first he had a hard time but then he decided he really liked the sound they made and stomped around the rest of the time. He seems to walk like an old cowboy when he's in these boots.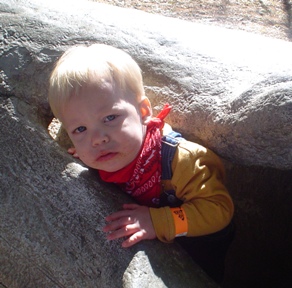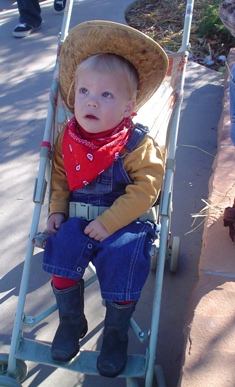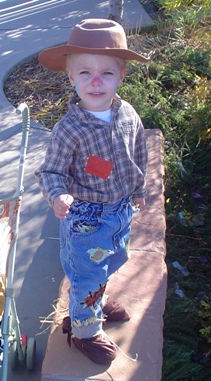 ---
Bye Ed and Sarah! We'll miss you and seeing your new little one! This was our last dinner with Ed and Sarah. They'll be in OK for a while and then who knows where next!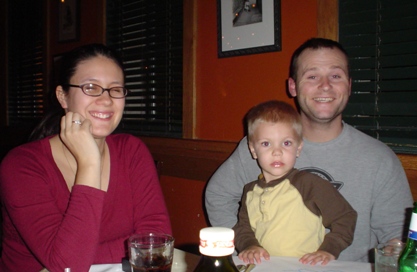 We cleaned Ed and Sarah's house that they sold so that they could have an easier time leaving town and the boys loved playing in their leaves.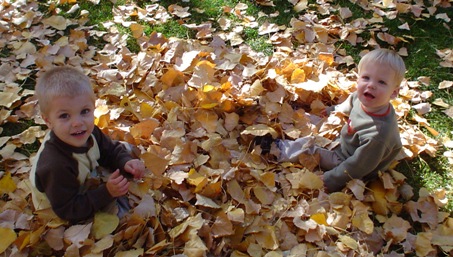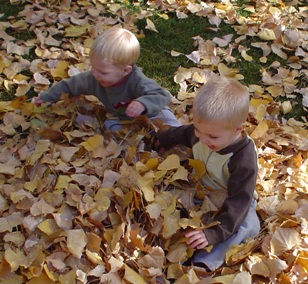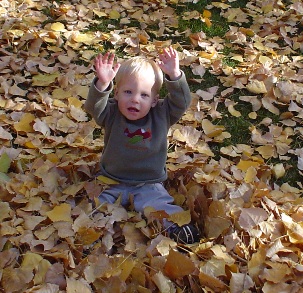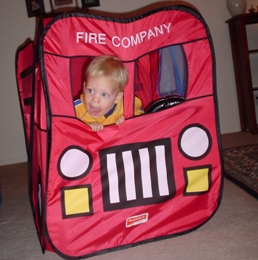 Brendin doing the monster mash at the library.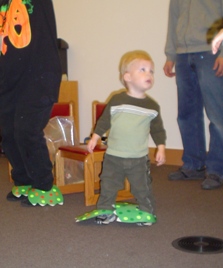 At the Zoo when it was 70 earlier this week!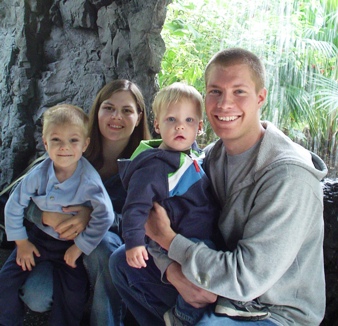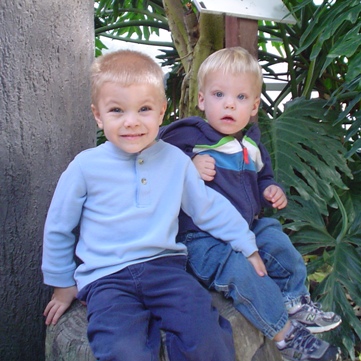 Davin's last soccer game of the season. The week before that he scored his first real goal (no not an own goal!) in the last few seconds of the game. With his left foot too! He was very excited and knew he had the right goal. He gave the ref a thumbs up.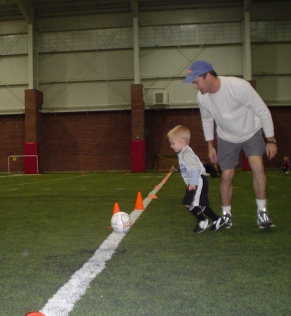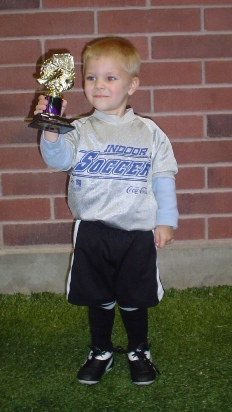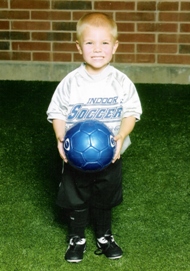 At the Columbus Center for their Halloween party. They had games, a haunted alley, movies, treats, bouncie castles etc. The boys had a lot of fun. It was perfect for young kids.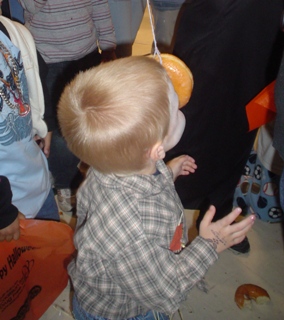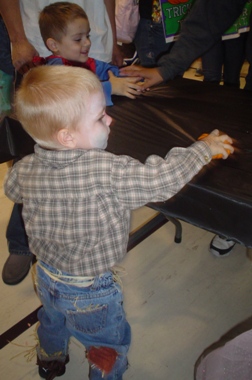 Here's the boys all dressed up. We made their costumes this year. Davin is a scarecrow and Brendin is a Farmer/Cowboy.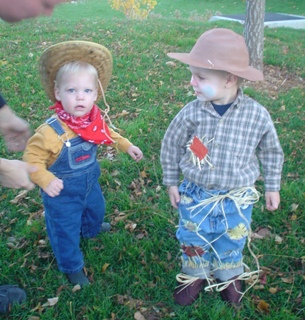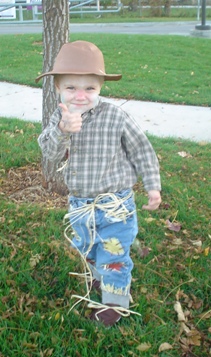 This was a game at the Halloween party, they had to try and eat a donut hanging off a string. Davin did really good!
Click for the Donut Game
Click for the boys Jumping off the Couch
Click for Brendin being a cowboy.
Click for Davin…being funny…perhaps impersonating John Wayne, not that he knows who what is!
Click for Davin's same but different joke!
Here is a card Davin made for everyone using the bubble paint technique we all probably remember from Kindergarten!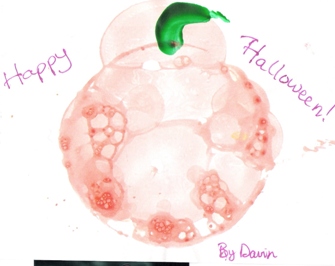 Comment? [3]
---
Fun week!! ·
posted Oct 15, 02:23 PM
We had a busy and fun week! On Wednesday we drove up to Idaho Falls for the AF Annual training meeting. We stayed in a nice all suite hotel with a big pool and hot tub for us to play in. We just hung around the hotel on Thursday while Jeremiah was 'working' and then we had the dinner that night. So we got all dressed up and dropped the boys off at the babysitters room. It was a bit boring sitting through about 100 awards and badges being handed out but it was a very nice dinner and was fun to get dressed up.
We carved out a pumpkin almost 2 weeks ago…it's an alien and his ship!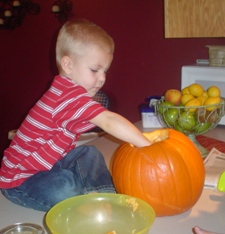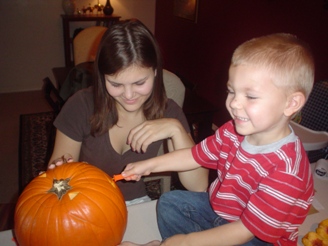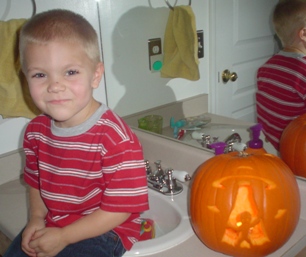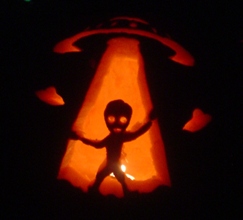 Swimming at the hotel and playing in the cabinets and drawers in the room.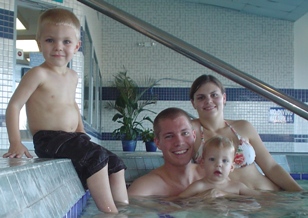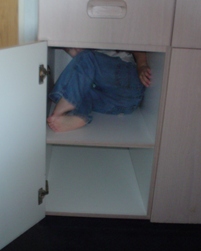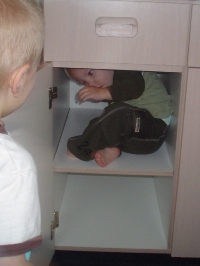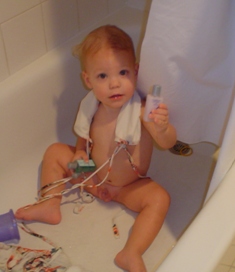 All dressed up and ready to go…Davin was super excited to go play with other kids and be with a 'baby watcher' as he calls them!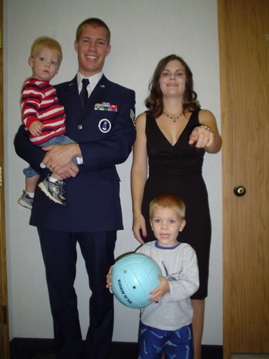 After the annual was over we drove up to Bear World, just about 20 minutes north of where we were staying. It was ridiculously expensive but Davin said he wanted this to be his reward for doing so well on his sticker chart. Plus who wants to drive 3 hours back home after a 3 year old has seen a small carnival! It was worth it and the boys had a lot of fun. There was a petting zoo and baby cubs to look at. In the petting zoo they had deer that were tame enough to kiss them, Brendin even tried it! They had a pot bellied pig, ducks, peacocks, chickens, and possibly the largest turkey in the world. We took a curator tour and drove arond feeding the HUGE bears.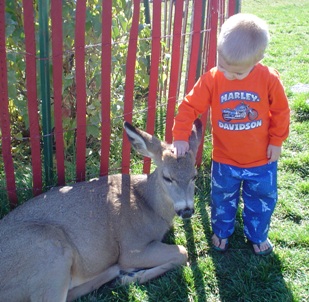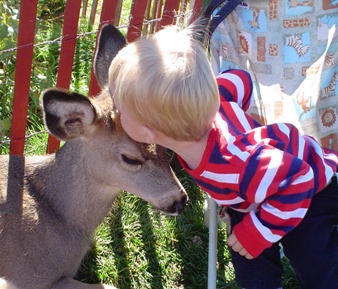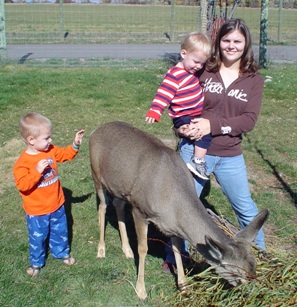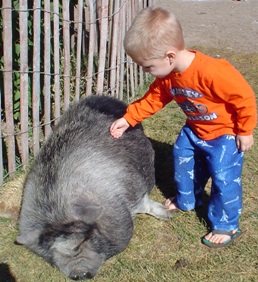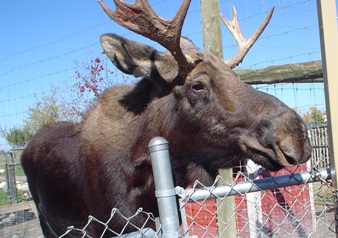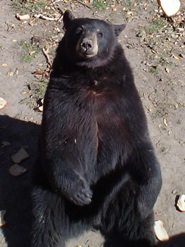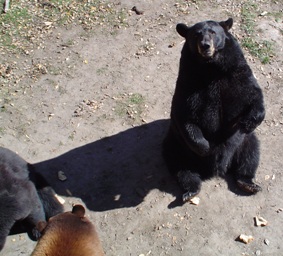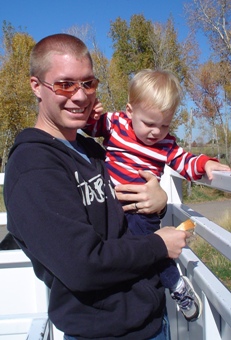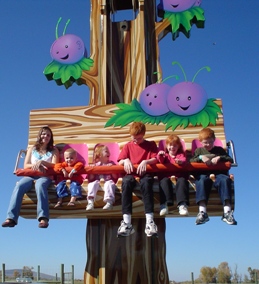 We drove to a tiny town called Lava Falls and went in their hot springs. It was a really cute little town and the hot springs were HOT! Plus we spotted the first merry go round in a long time. Davin was pretty excited since he knows what one is but we have never found on in Salt Lake.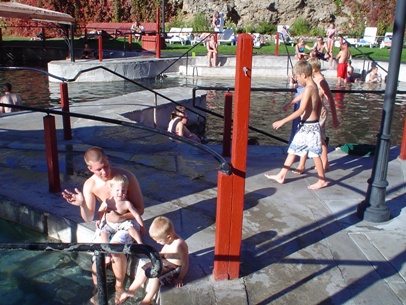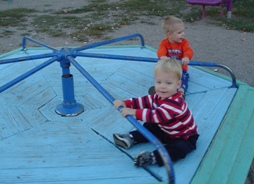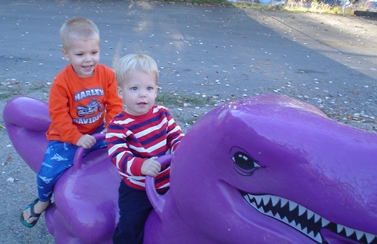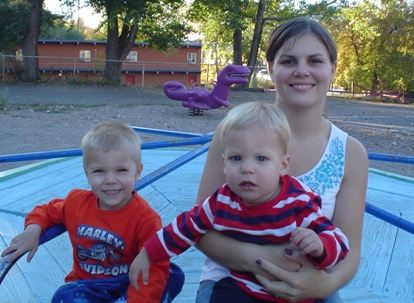 The boys were helping me make a pillow for Sarah and Ed's baby shower.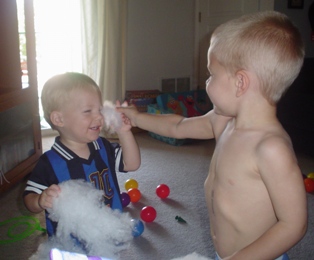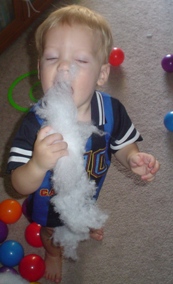 We found a farm in the city! Wheeler Historic Farm is not too far from our house and we saw they were having a Scarecrow party. You pay $5 and the kids get to go on a wagon ride, hunt down a pumpkin in a real pumpkin patch, paint the pumpkin, make a candy spider craft, and all we had to bring was clothes and they supplied everything else to make a scarecrow. We had a lot of fun and spent a few hours they. They also have horses, pigs, sheep, chickens, cows and other animals to look at. Their is a huge park area and they have so much land with trails on it we are going to go walking there before it gets too cold.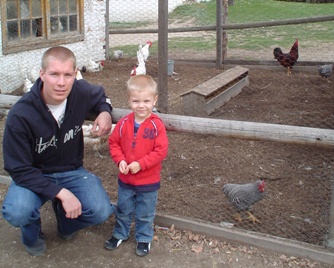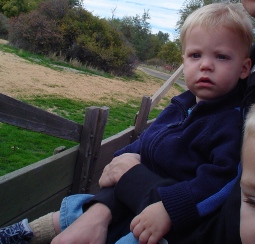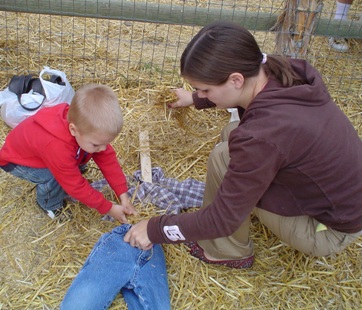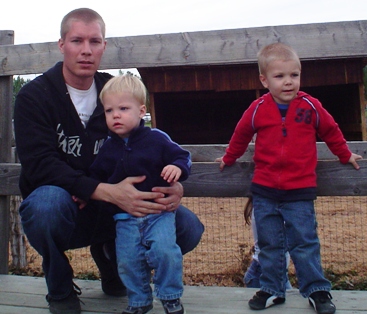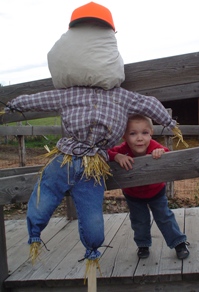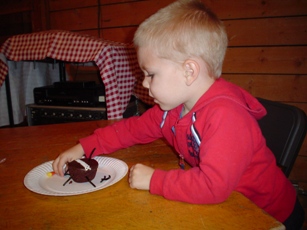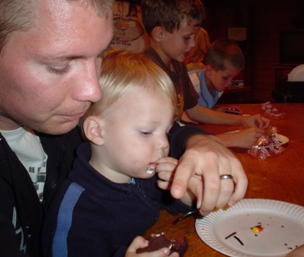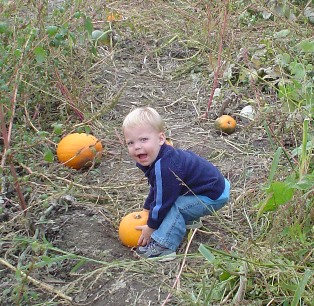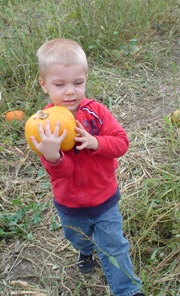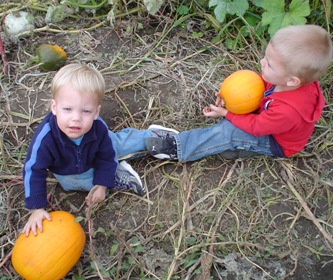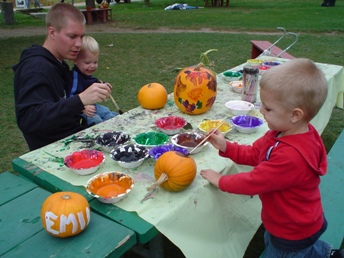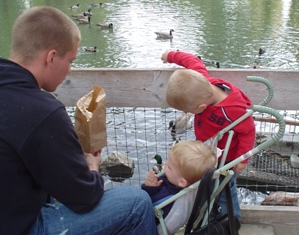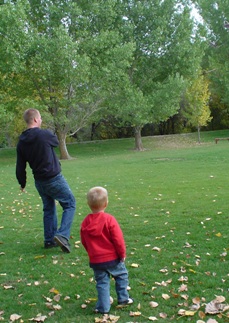 Comment? [2]
---
Jeremiah decided Brendin's hair was out of control so we took him in for his first haircut. He did great and loved running the comb along his teeth! He made the lady's day at SuperCuts, she thought he was the cutest thing ever and the other stylist was wishing her last kid who was 14 months old sat still like Brendin did. Davin kept saying "How is she keeping him still?" I told him "Amazingly Davin, he's sitting there still, all by himself!".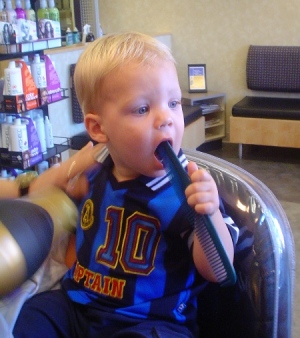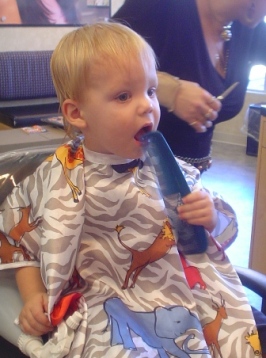 Davin's car drawing…look for Davin's eyes peeking!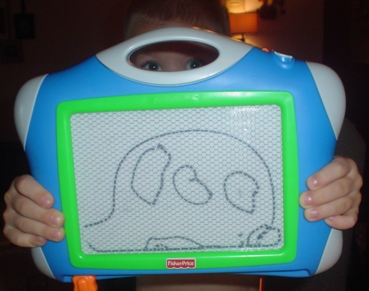 We got to take over the roll of coach at the last game, there's Jeremiah and the team at the goal. Davin is doing great lately and running after the ball a lot more. He wishes the kids would stop acting like maniacs and pass the ball to him! It's K and under this year so he's playing with some pretty old kids.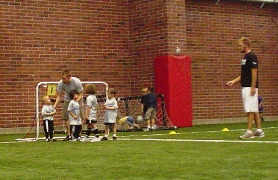 Story time at the library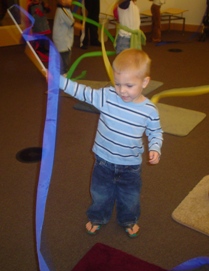 You can walk up to the top of the library and get some terrific views. It's really neat how they made the building slope all the way to the ground. You end up on the top floor and can take the elevator back down to the kids floor.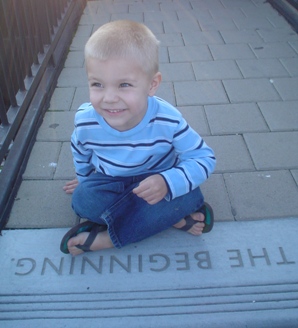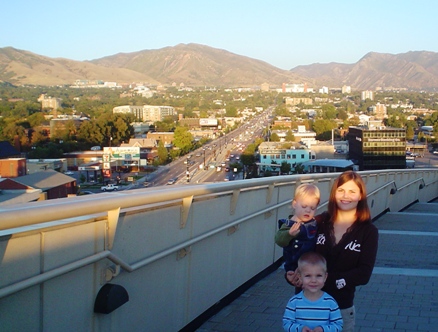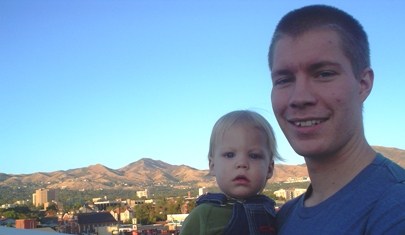 Wasatch Mountains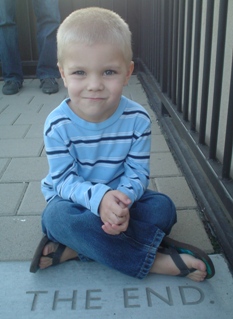 We fired up a S'mores maker that Grandma Deb got for us.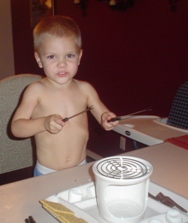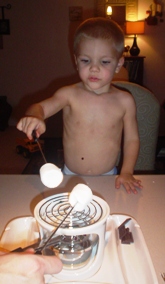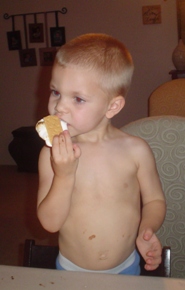 Brendin decided to help himself to the rest of the waffles on the counter…he sat like this for about 5 minutes cleaning the plate!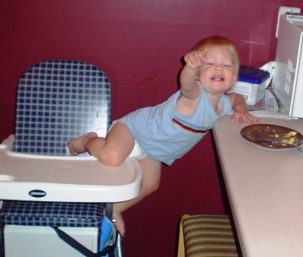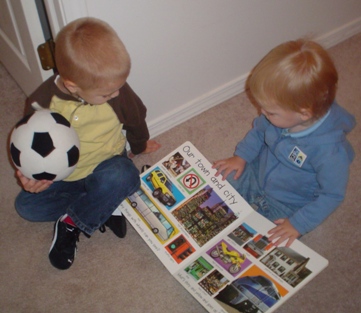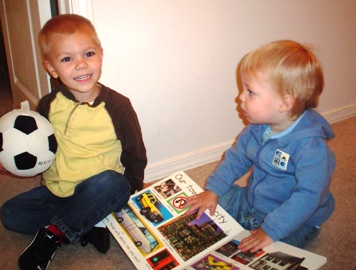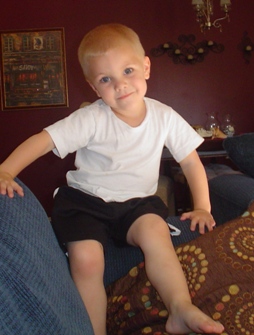 It's a boy taco!! And the boys love getting 'blanket rides'.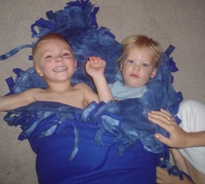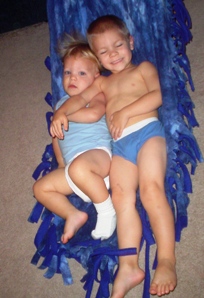 Brendin is getting good at talking and say Side to Side in an adorable way but I haven't got it on camera yet. He is also saying turtle, bird, kitty cat, up and down and tries to say crocodile and motorcycle but usually just says cycle. Here is a video of Brendin saying Thank You!
Click for Brendin's Video
Comment? [3]
---
Fair & More ·
posted Sep 21, 04:17 PM
A little over a week ago we went to the Fair. Davin of couse had even more fun this year. They went through the 'Hands on the Farm' exhibit and had a lot of fun planting and picking vegetables. Getting wool, brushing the animals, milking the cows and getting paid for all their hard work! They got a coupon for a snack in the store. Then Davin and Dad got wristbands and went on just about every ride. The race car one really surprised Davin because it goes slow on the straight away and then whips you around the curve. His eyes were popping out of his head!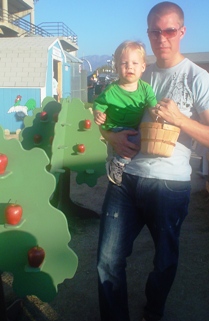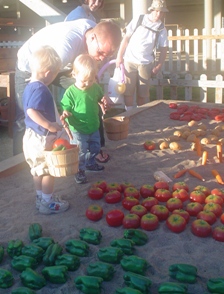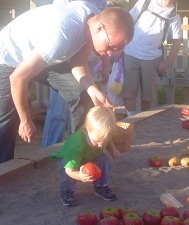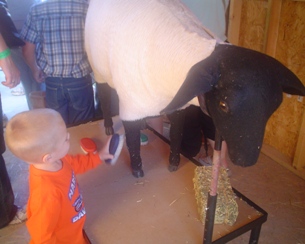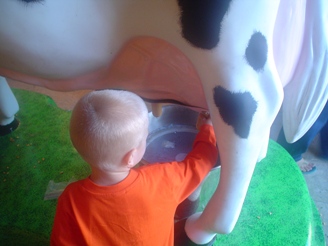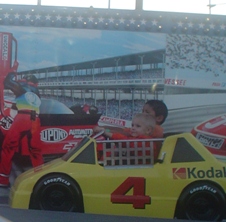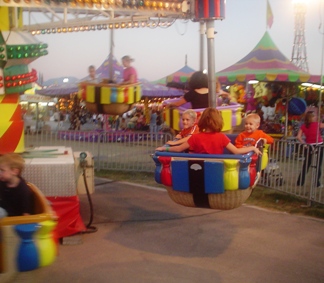 Brendin test driving the Batmobile and he just couldn't wait after his bath to do some nude vacuuming!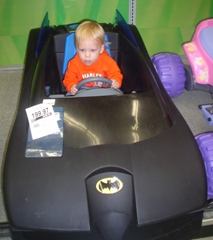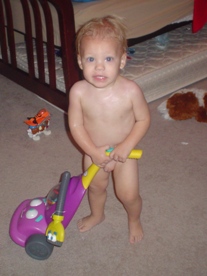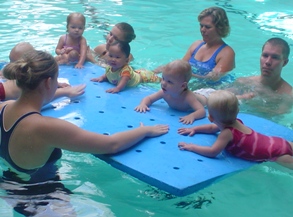 Davin said we needed to take a picture for Grandpa Dave so he sat down and did this little pose here!! And yesterday we went shoe shopping for Davin and he picked out some sweet new Pumas. They are so much lighter than the cheap Payless shoes that he had before. He also got a neat pair of KSwiss shoes that look like they are tie shoes but have a pieces of velco that lifts the laces up. He was so excited, he did a few shuttle run sprints in the store to try them on. He said these are good clodhopper shoes…and they are good for hoppin' clods!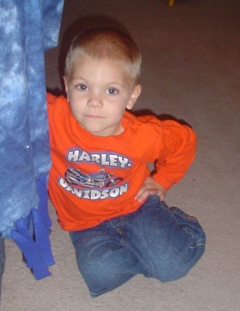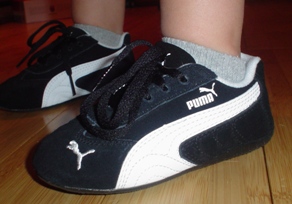 Click here for Brendin's latest swimming lesson.
Click for Davin singing a Dr. Suess song-he starting singing this song a couple of months ago but I didn't think he'd do the whole thing on camera! Here's the words to the song:
Hooray for us, hooray I say. Horray for all the fun that we have everyday. All the new faces and all the new places we see. Just you and me. So come back soon, and when you do, I'll have some new surprises in my hat for you. Just one last thing, and then I'm on my way-Let's shout HOORAY
SingingDrSuess.wmv
Comment? [3]
---
Visitors! ·
posted Sep 10, 04:52 PM
We had a busy week last week! Grandpa Dave and Aunt Dede paid us a visit…a very overdue visit! Thanks so much for coming out…hopefully you can make it out again soon!! We spent the week running around Salt Lake getting about as much stuff in as the boys would let us! Davin started his Fall Season of Soccer. It was a mess the first day but hopefully tomorrow will be better. He had a lot of fun and ran around the whole hour kicking the ball around with the other kids.

Playing soccer at Liberty Park after our BBQ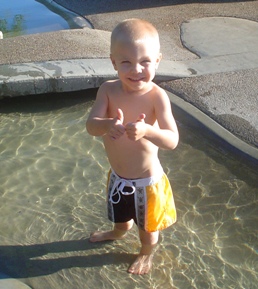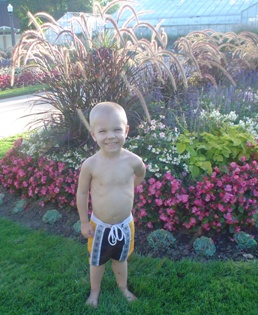 Rolling down the hill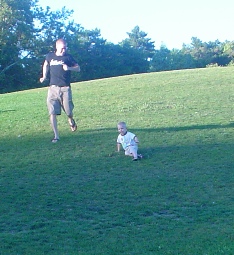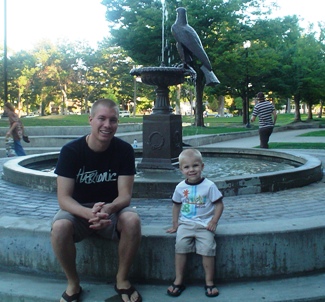 Playing in the fountains at the Gateway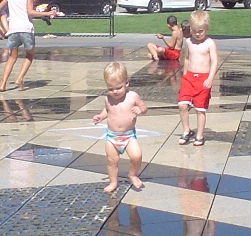 At Build a Bear…Davin is stuff his bear, testing it for it's hug-a-bility and then getting it's heart ready. Davin picked a Giraffe and named it Donal Duck. Brendin picked a Monkey and Davin named it Bear! Ha! Then the boys are giving their bears a bath, then they got a bath!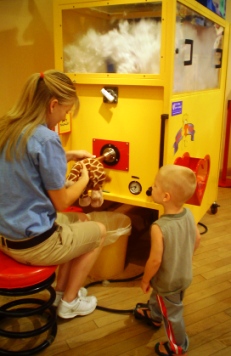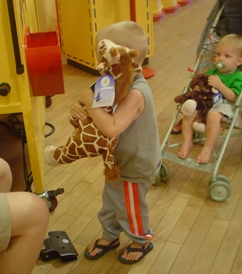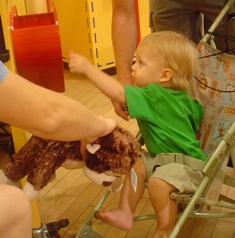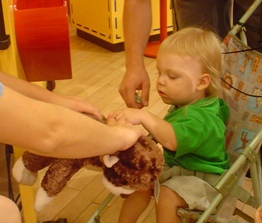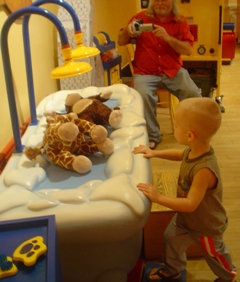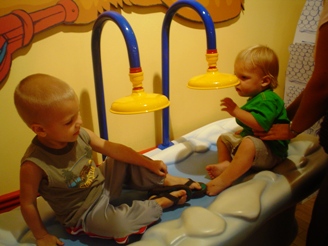 Grandpa and his boys at the Real Salt Lake vs Colorado soccer game. Aunt Dede and I got to have dinner with our Aunt Tami….an almost three hour dinner!!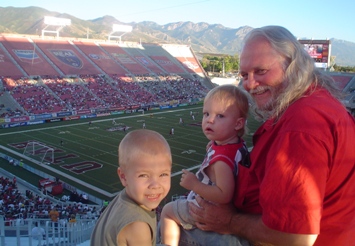 Eating brunch with aunt Tami at the Red Butte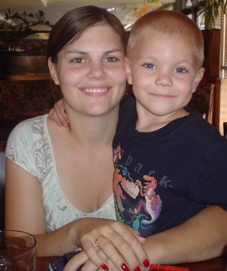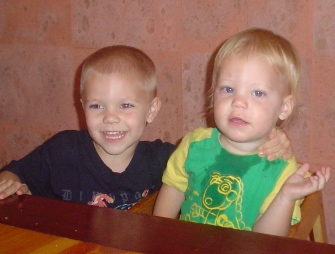 Trying out some seafood at the Market Street Grill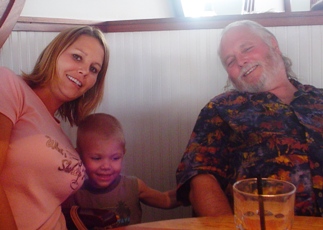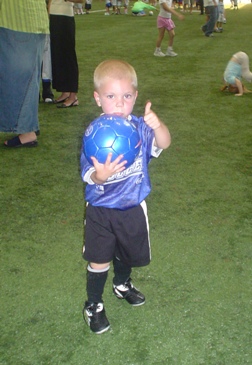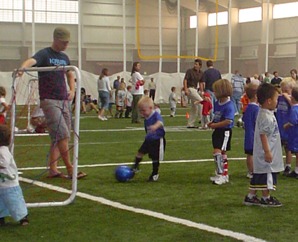 Brendin saying GOOOOOOAAAAL!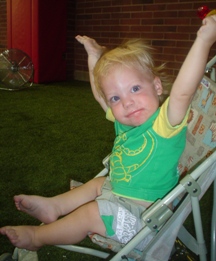 Tracy Aviary


The boys were so cute walking around the Aviary holding hands…for the first time.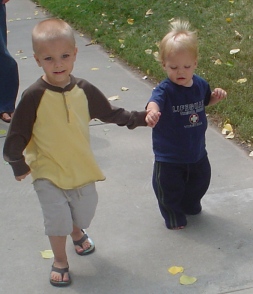 Grandpa Dave took the boys to the Harley shop and bought them some new outfits. They are long sleeve and jeans so I'll get pictures of them all geared up as soon as it cools off.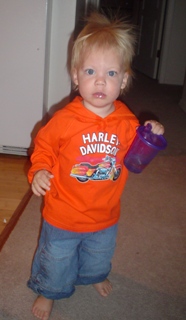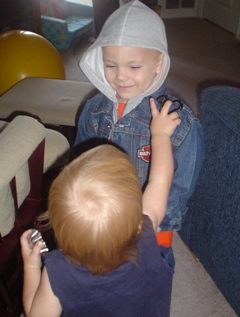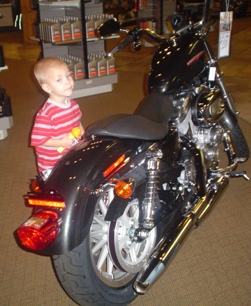 Hanging out with Gramps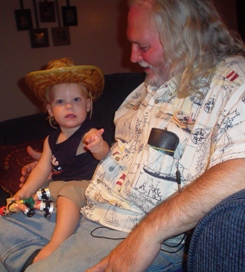 Brendin got a little thirsty while playing in the fountain!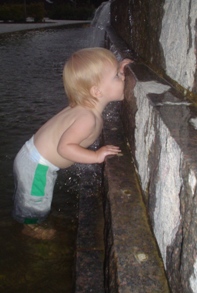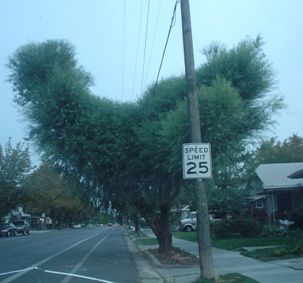 Does this tree look wierd to you?! Let us know what you think it looks like. :)
Click for Davin returning the Feather
Comment? [4]
---
We finally have the van back! That thing seems like a pinto after driving the truck around for a month! We are still waiting on Air Force info. but are leaning towards trying out the Air National Guard because of better options for us. We should have our minds made up sometime in September.
Brendin's somersault!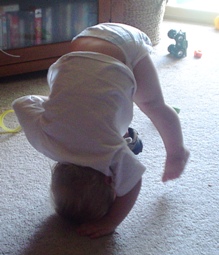 Brendin started his swimming lessons this morning. He did really good and doesn't cry when he goes underwater. He did a great job swimming towards the edge and grabbing on.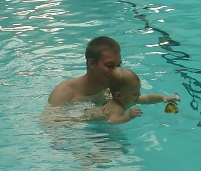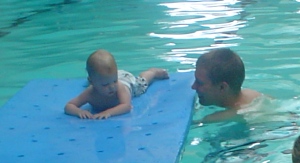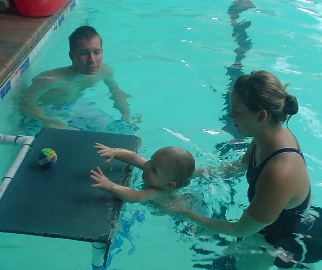 We went to Red Butte Gardens this weekend and it was so beautiful! I've been meaning to go for a while but we've been so busy. They have about 20 life like dinosaur scupltures and they are sort of hiding. So Davin had a great time finding all the dinosaurs. This place was huge, I think we walked around for over an hour. Then they have a kids garden with lots of stuff for the little ones.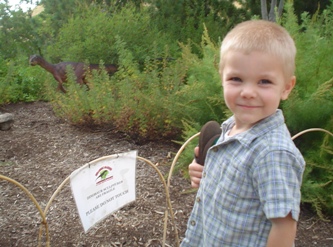 Davin thought it was really neat that these bees were taking a nap in the flower! :)


Kritosaurus was one of the biggest ones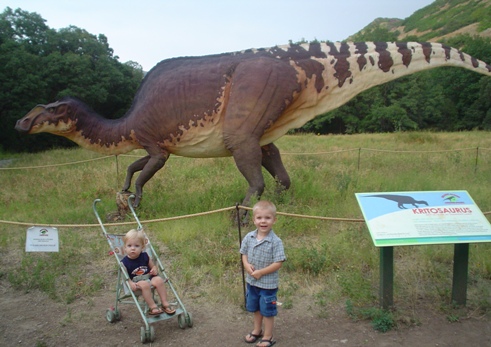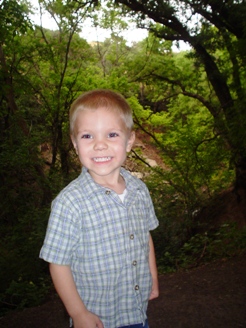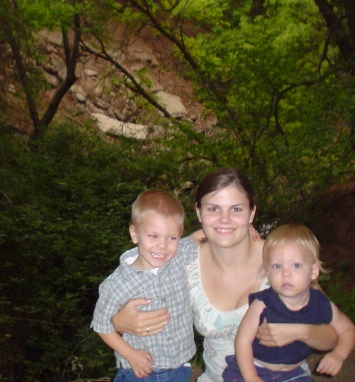 This one was 10ft long and weighed 1 ton. We found that hard to believe for small it seemed. Davin loved yelling the dinosaurs name instead of saying 'cheese' and he definitely broke the silence in the Gardens!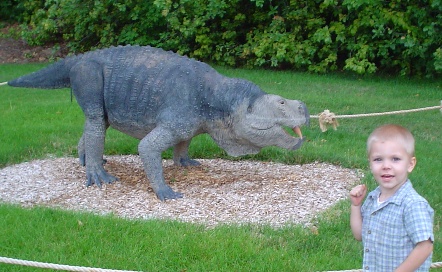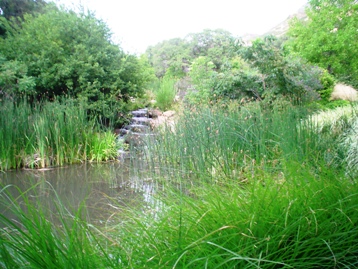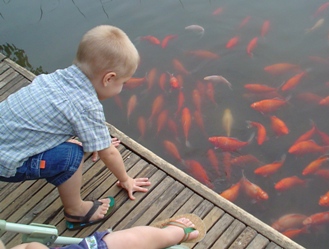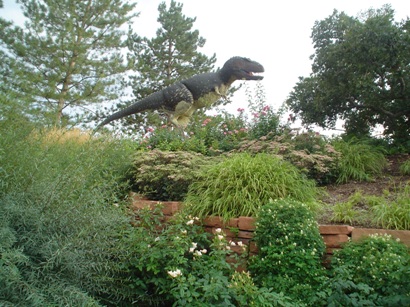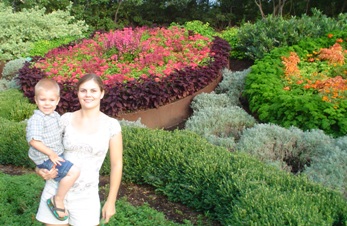 This one was the hardest to pronounce and Davin did a good job shortening the name up so he could yell it out. Quetzalcoatlus..pronounced like Kweetzle koh ATlas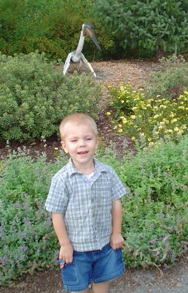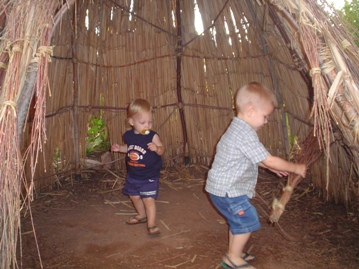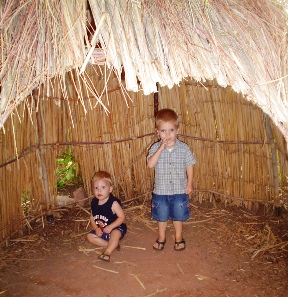 Above was a cute little teepee made out of sticks. Below was a beautiful maze with lots of tunnels to walk through.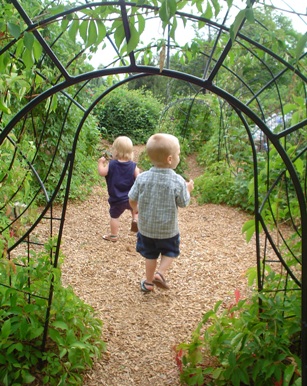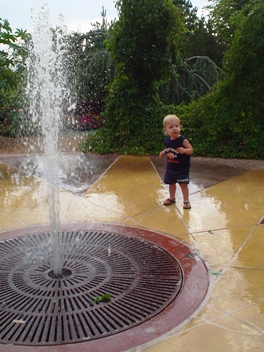 Brendin was pretty brave and got wet in the fountain and then figured out that dirt and water makes MUD!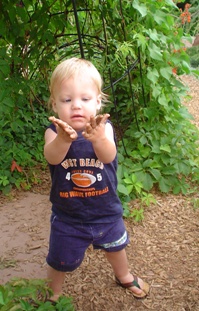 Davin, and the sun, peeking through the maze.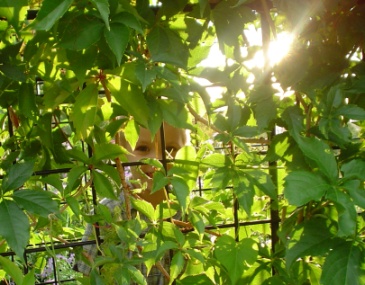 Davin was only floating on his back with assistance last week and kept trying to grab his face, this time he didn't even put his arms up. He had the perfect star float today!
Click for Davin floating and then turning over



Brendin's first attempt at swimmimg and grabbing the ledge.
Click for Brendin swimming to the edge
Davin does not like getting his clothes wet so this was so unlike him! I just sat there saying oh man are you going to be mad in a minute! Then he was acting like he couldn't walk with his clothes wet…his pants were falling down…he was cold…it was pretty funny! It was the first time we've had the heater on in the van in a long time!
Click for Splashing!!

Comment? [4]
---
We've had a busy few weeks and we are getting closer to finding out where we will be in a few months. It's been a bit of a roller coaster ride. We are waiting on Jeremiah's linguist retraining application information that we should be getting the beginning of September. There are no more Chinese slots available so for now we are leaning towards Korean. If Jeremiah wanted to go back to avionics we'd be going to Moody AFB Georgia….NO WAY! That won't be happening. They called him the other day and told them those were his orders. So if the retraining doesn't work out it will mean something different than the Air Force for us as we don't want to go to GA and he doesn't really want to be on the flight line again. I won't go into too much detail as our plans have been changing weekly! Hopefully we'll have some good news come September since we could be leaving as early as late October.
Susan, Tim, Ben, Anna, Stephen, Rachel and Drew all came down for a very short weekend visit. We tried to pack a lot of stuff in that short time. We went out to eat and then went to Raging Waters. It was a lot of fun. Even the 20 minute storm we got to sit through was fun because it cleared out the park a little bit and then the sun came back out. Then I made some Huevos Rancheros for dinner and took everybody to the game. I got to stay home and clean (wahoo!) but it was worth not having to make those guys park a mile away from the stadium and then have to sit in traffic.
Davin was just going down on our laps a few times then I asked if he wanted to go on his own. He said no…I pretended like I didn't hear that and I gave him a gentle push! He went down by himself and started yelling "LETS GO AGAIN, AND I'M GOING BY MYSELF!" He went down about 50 times and started going down face first.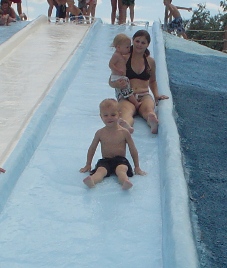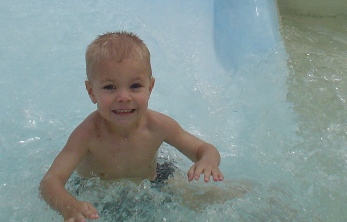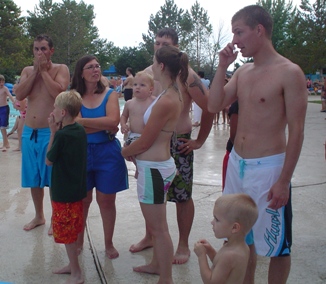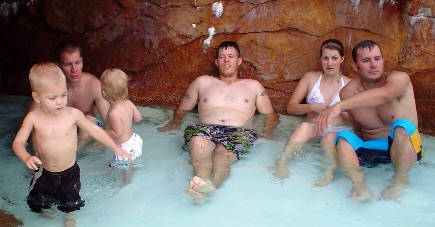 Jeremiah, Anna and Tim on the ropes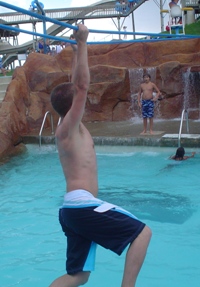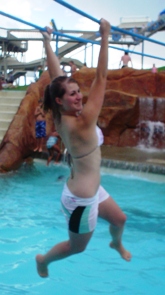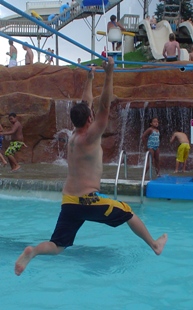 Anna and then Tim and Jeremiah on the shoot slide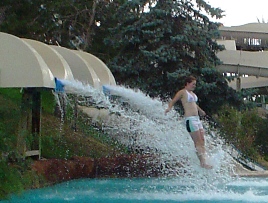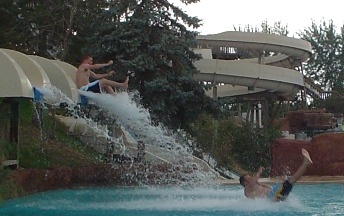 Jeremiah and Tim on the rope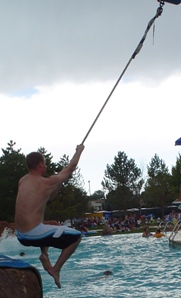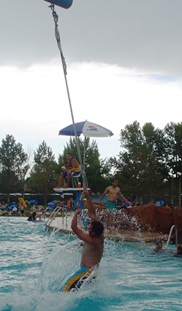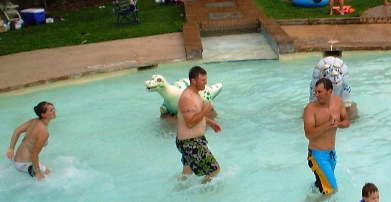 Soccer with Uncle Tim
The boys trying to fall of the chairs!!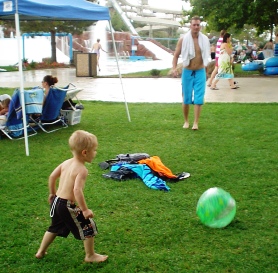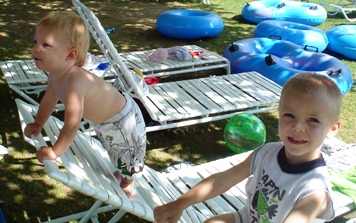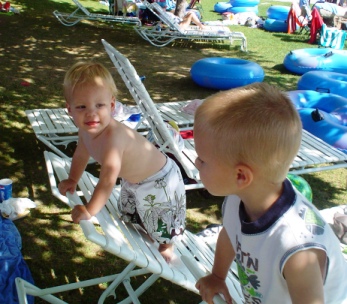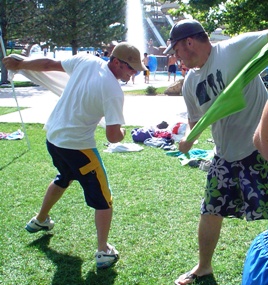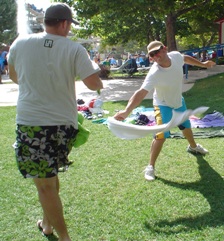 Davin stylin'!


Click for Waterslide Movie
Click for another Waterslide Movie!
Very tired after the water park!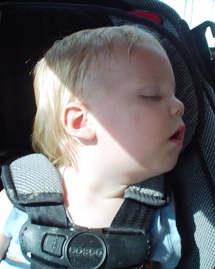 Real SL vs. Real Madrid game that Jeremiah and some of the Mollman family went to this weekend.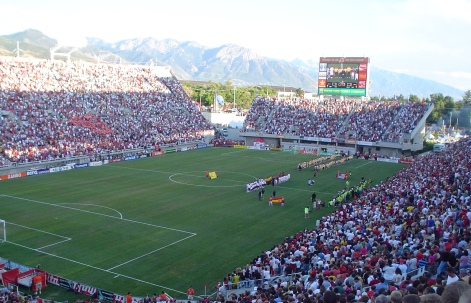 Ben and Davin relaxing…which was later followed by a 'jump-on-Ben-fest'!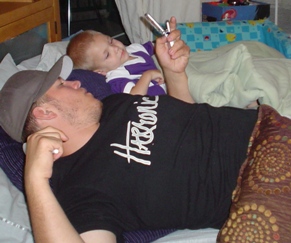 Rachel, having to draw with her eyes closed!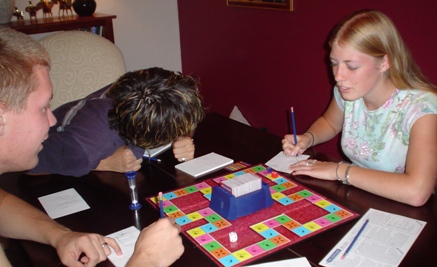 On Monday morning Davin woke up at 6 a.m. and had what looked to be pink eye. He either got it at Raging Waters or from someone who came to visit. I haven't heard about anyone else having it so Raging Waters is probably the culprit. We had to cancel his fist swimming lesson and take him to the doctor instead. He, of course, now has it in both eyes but it's fine during the day, just annoys him when he wakes up and can't really open his eyes! He looks like he got into a little fight in these pictures!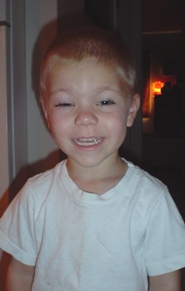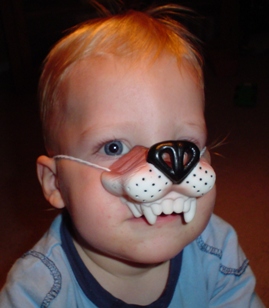 Click for a movie of Brending being a wolf!
and…
Click for a movie of Brendin being 'cheesy'!
Here is Davin at his first private swimming lesson. This place teaches the swim float swim technique. It's actually pretty amazing to watch the kids. There are 1 year olds that can swim fully clothed and with shoes on. At 1 year old they can learn how to swim, turn over and float on their back to get air, turn over swim more until they get to the edge and pull themselves up. Davin has never liked water in his face but during his 15 minute lesson today he did it repeatedly to grab rings from the pool even though he would get water up his nose and cough. He did great and I can't wait to see how he progresses. I'm just putting Brendin in a parent tot class since the private lessons are a little intense and they usually just cry a lot at that age.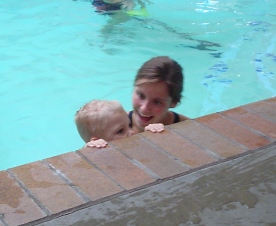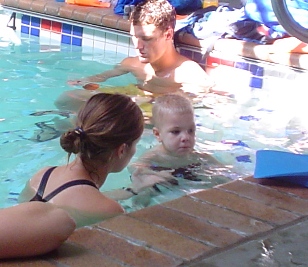 We just got the Disney movie Fun and Fancy Free. I didn't think Davin would like it this much but he laughed through about 80% of it, got the hiccups and could barely sit still!
Click for a movie of Davin laughing hysterically at Fun and Fancy Free!
Comment? [5]
---
Here's a cool map that shows you what percentage of states you've visted. I'm at 60% and Jeremiah is at 72% (he's been to Ohio, New Hampshire, Vermont, Maine, Massachussetts, and Iowa. You can click on the link to do your own.


create your own personalized map of the USA or check out ourCalifornia travel guide
Comment? [2]
---