At the Discovery Park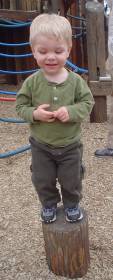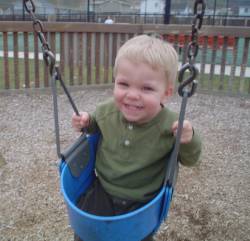 Uh oh…MESS!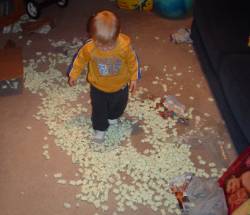 Pictures from our trip to Bismarck this month. We went to the Zoo, Space Aliens and visited family.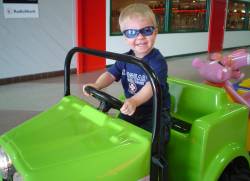 Yes, he learned how to milk a cow and Grandma taught him how to feed the animals.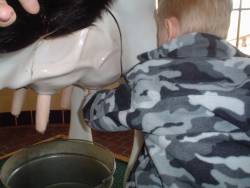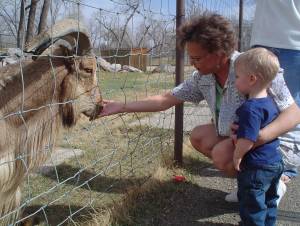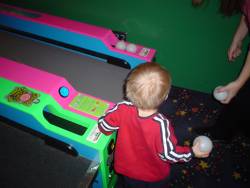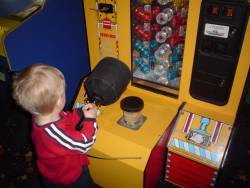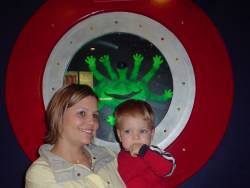 Latest haircut…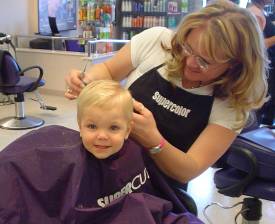 At a park near our house…swinging and chasing ducks as well as being brave and looking into the stream from the bridge.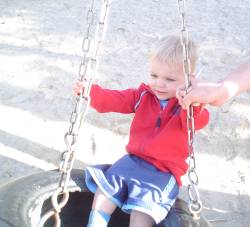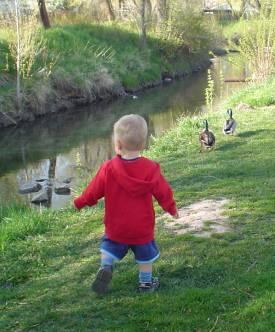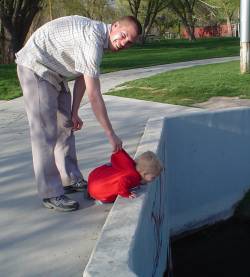 Jamming out to the Wiggles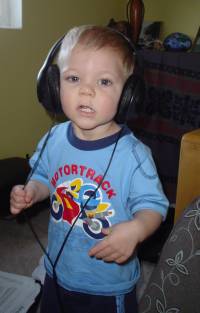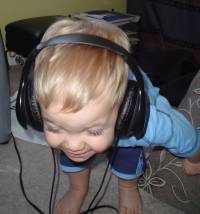 Talking with the lemur at the Hogle Zoo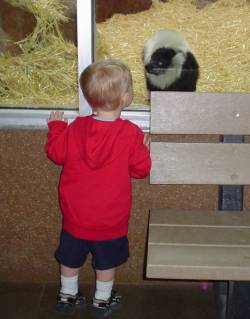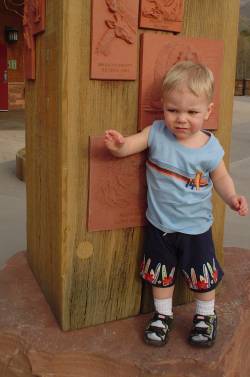 We pulled out the ballpit this week…he went crazy!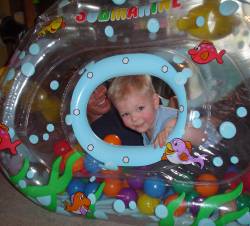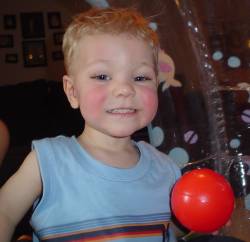 Sugar House Aquatic Center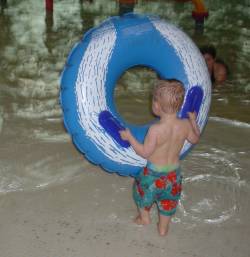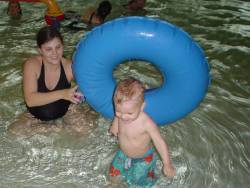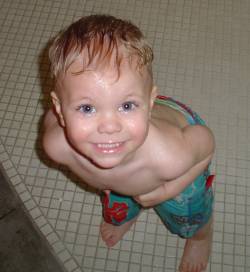 What are you doing Davin?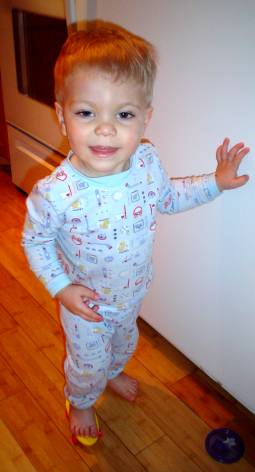 Ahhh, using Mr. Potato Head's skateboard!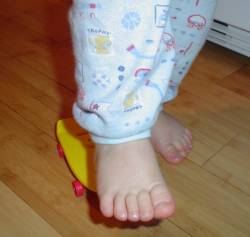 Here's a video of Davin counting, he's learned 1, 2, 3 and 3, 2, 1.
Click Here 1, 2, 3!!!
I know, only one pic of big 'ol me, but I am in a swimming suit! The checks-ups are going fine, we have one on Wednesday and then we'll be going almost every week. My stomach already measures bigger than what it did June 1st of my last pregnancy! 59 days to go…
Comment? [2]
---
Opening an early gift with Grandma Olmsted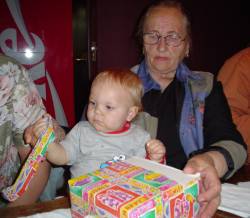 Gambling with Grandpa Bob


Having a talk with Grandma Deb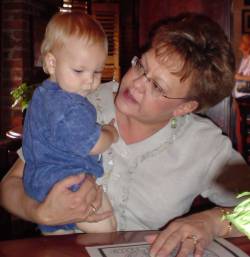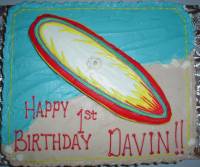 Davin's ballpit from his cool parents!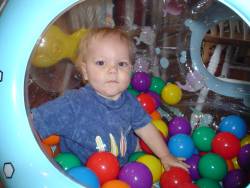 Roberta and her cake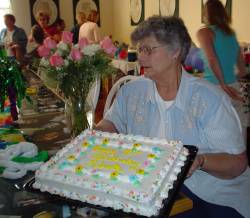 Davin started out really slow with his cake but eventually he dug right in!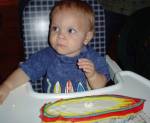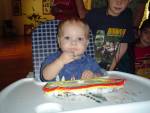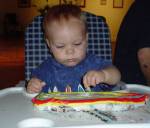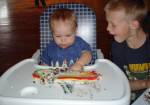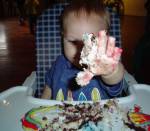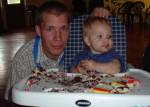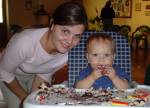 Davin had 6 Grandmas at his birthday, here are the 4 Greats!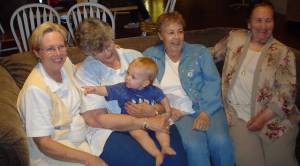 Opening gifts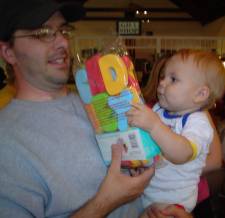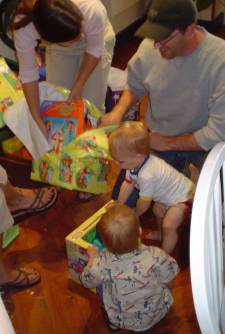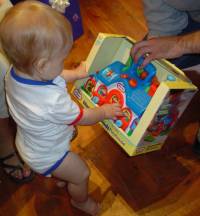 Birthday Dinner-Spending time with Family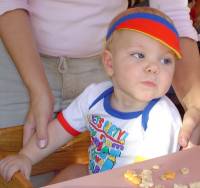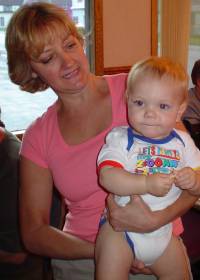 Jeff and Susan renewing vows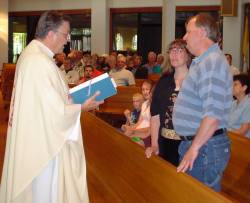 Davin and Rachel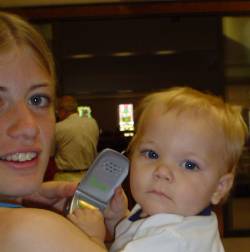 Davin helping decorate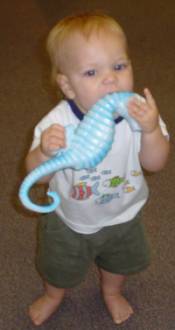 Playing the Newlywed game at Jeff and Susan's 25th Anniversary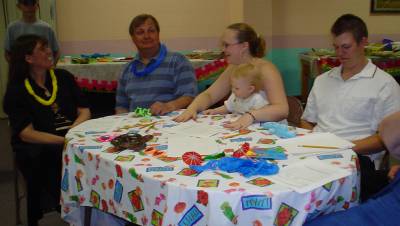 Baby Noah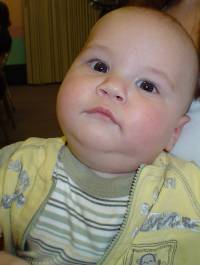 Davin & Kaleb-best buddies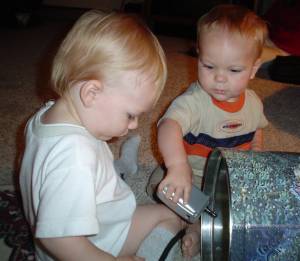 Swinging in the Deadwood Park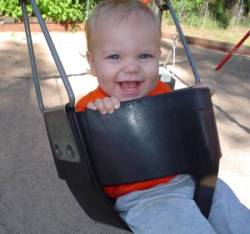 Comment? [4]
---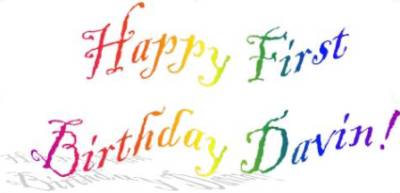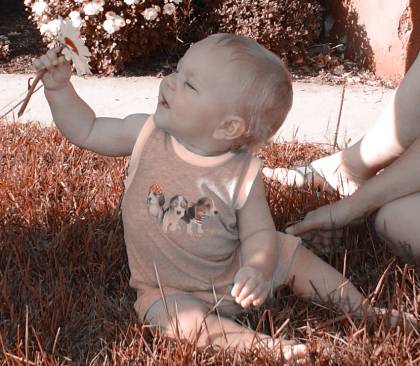 Comment? [2]
---
Finally, our pictures from Hawaii and California!
First time in a swimming pool!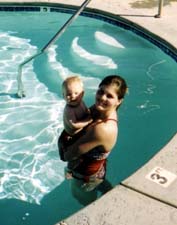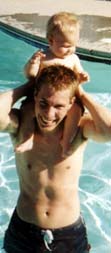 After not getting on a flight we took a tour of the first Jelly Belly Factory in Fairfield, CA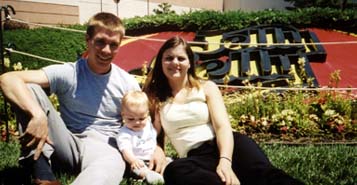 One day we drove down to San Francisco & another day to Santa Cruz. The drives were beautiful. Here we are on Santa Cruz beach: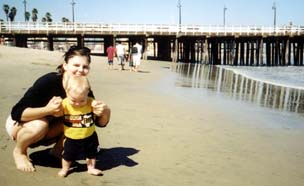 First time on the beach in Hawaii at the beautiful Hale Koa resort for military: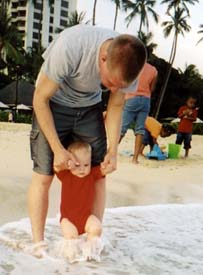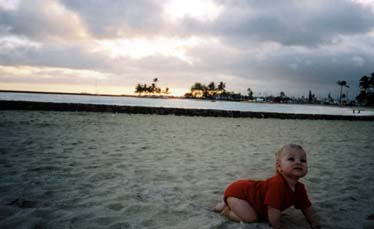 Davin eating caviar!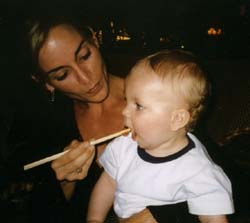 Playing on the beach on Kauai: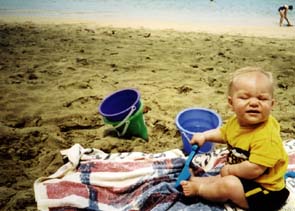 The Kilawea beach on Kauai: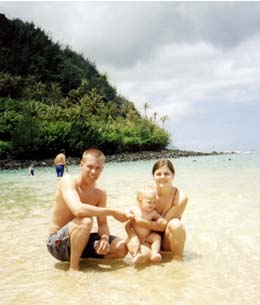 Jade pushing Davin: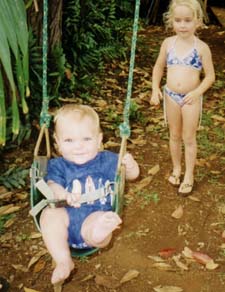 Family picture in front of the Murphy home in Kauai: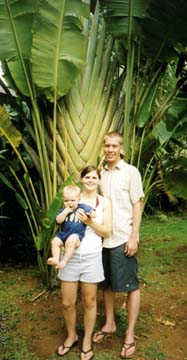 Davin, Doreen & Pierce: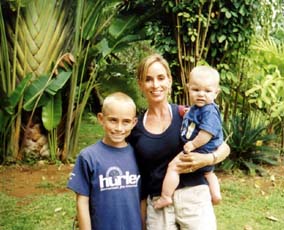 Davin and Mommy by the Plumeria tree: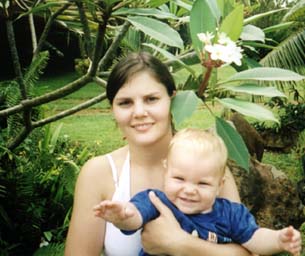 Davin eating (fresh!) pineapple for the 1st time!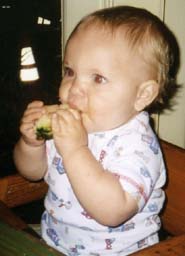 The sunset on Waikiki Beach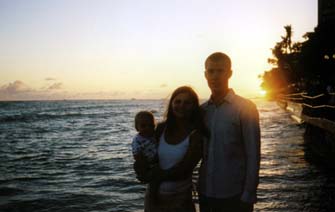 On Waikiki Beach: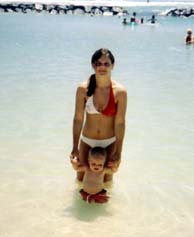 Davin and Daddy w/ a Hawaiin Rainbow!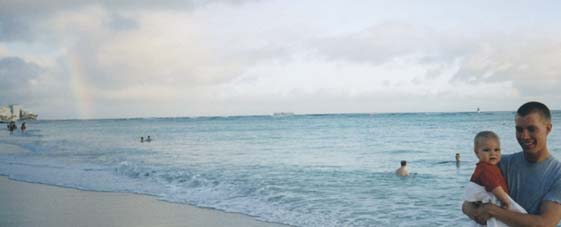 Shoveling sand on Ke'e Beach!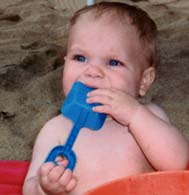 Davin and Jade…it must be love!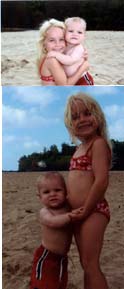 At the Princeville hotel overlooking Hanalai Bay watching the sunset: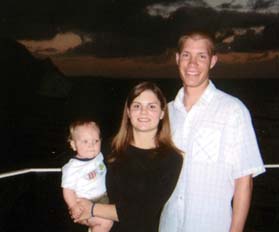 Cute Grin of the Month: On his toy that Grandma Deb got him: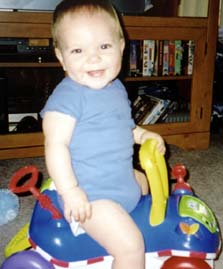 Comment? [5]
---
We've put up a new site design, as you can tell, to make it look more kid-like and less nursery like. Also, on Friday Davin said his first word(s)...tickle tickle! He said it while playing with our cats tail. Will get the Hawaii pics up soon!
Comment? [1]
---
We'll be flying home for Easter to spend time with family. Davin just wanted to say…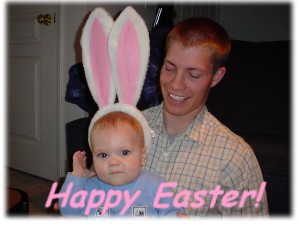 Comments [3]
---
Grandpa Dave requested a picture of Davin crawling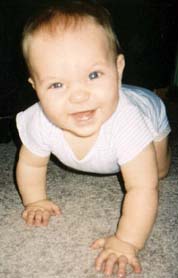 Davin is still practicing with Daddy: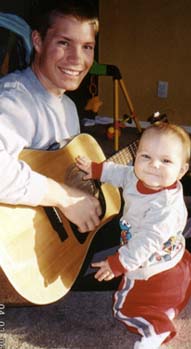 Helping me fix the computer: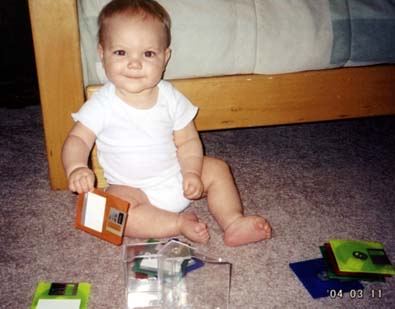 Helping paint: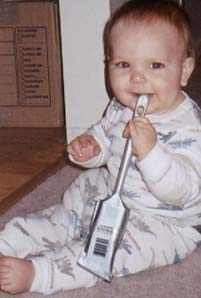 Is there something on my back?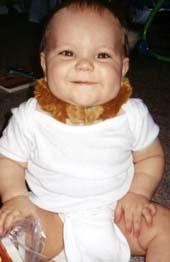 It's a monkey!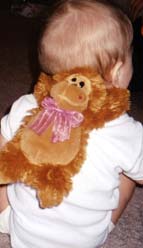 "Helping" Elmo Limbo…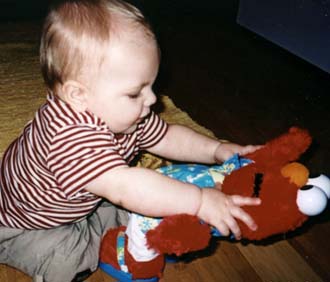 Practicing putting…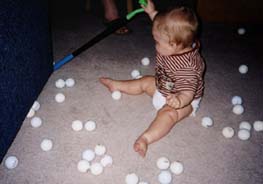 Four Generations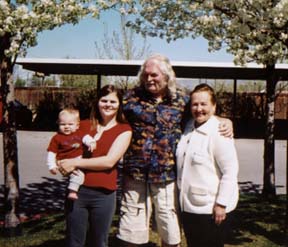 We visited Antelope Island on the Great Salt Lake: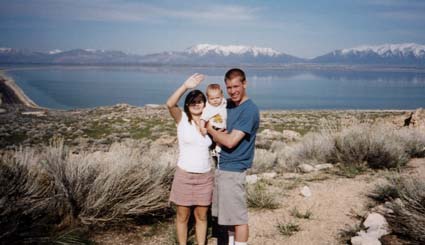 Just hanging out with Jordan in Vegas :o)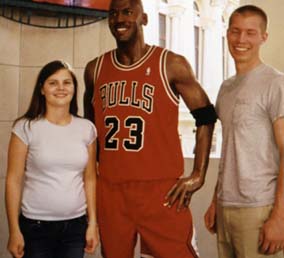 Family Picture at the Shark Reef in Las Vegas: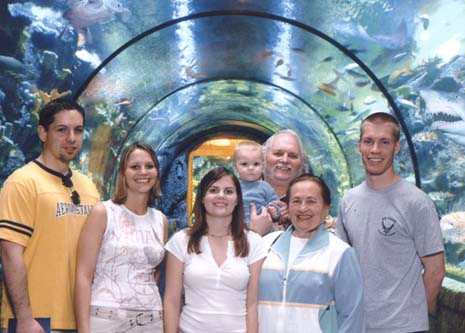 And finally, the best picture of them all. I know she's been just waiting for me to put this up. I talked Dad and Dede into going on a ride on top of the Stratosphere in Vegas. We went on the Big Shot which shoots you, at 45 mph, from the 921 foot level to the 1,081 ft level in 2.5 seconds and then you free fall back to the launching pad. You hit 4G's on the way up and o G's on the way down. Now this was money well spent…thanks Dede for making us all pee our pants looking at your face in this picture!
Click Here For The Look Of Terror!
Comments [3]
---
Here are some older pictures that I'm finally getting put up! These are all from the middle of December while we were visiting SD on the way out to Salt Lake City.
Davin's Godparents: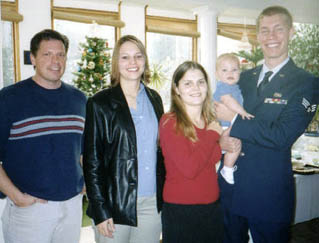 Getting ready with Grandma: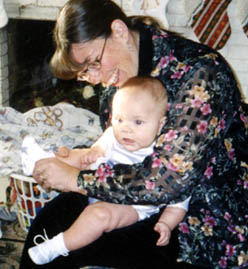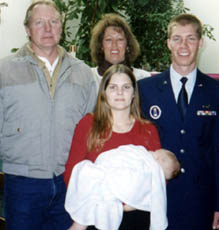 My 21st Birthday party at Jeff and Susans: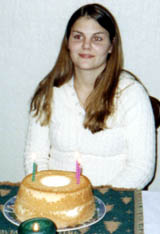 Dad and Dede partying it up on my birthday!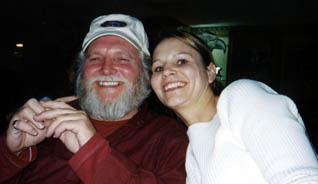 Davin's first encounter with Santa!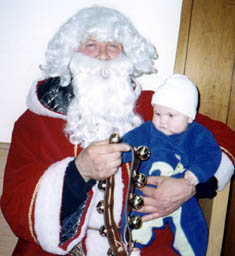 First time in a Steak and Shake: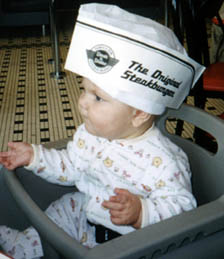 Davin in Grandpa Jeff's hat then in Grandpa Dave's hat…


Mollman Family Picture: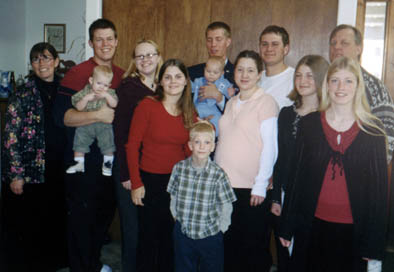 Kaleb at his house while we were visiting: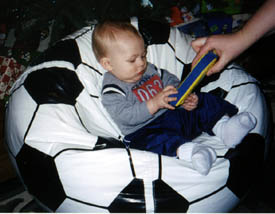 Comments [1]
---
I can't believe it's been over 2 months since my last post. We are finally settled in our new condo and have the 'ol computer set up so I can get these pictures up here. I'm going to start with some of the recent pictures and then if I have time I put up some that I got developed a while ago. Most of these are from our little trip back up to the Dakotas to visit Noah and my Grandmother in Bowman. Be patient, there's a lot of pictures loading! If you missed out on our Christmas letter, which got sent out in February, email me and I'll get one to you.
A new trick he learned at Christmas time and does when he's excited: TOUCHDOWN!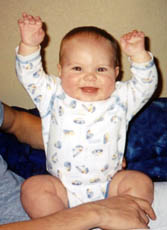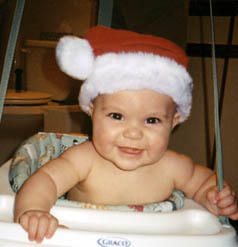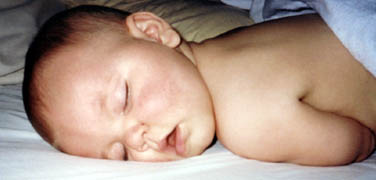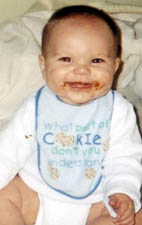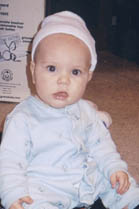 This is a really recent picture after I got my hair cut off!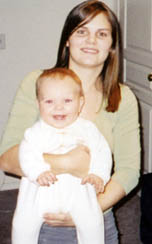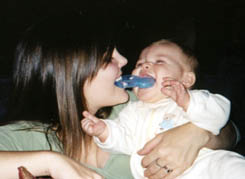 Working on his soccer skills: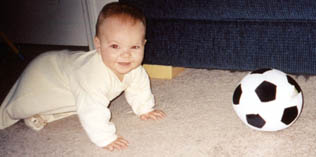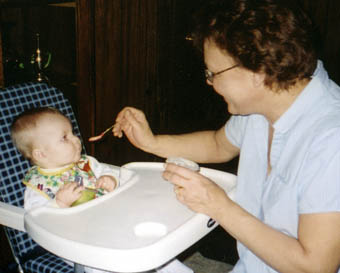 Four (beautiful!) generations: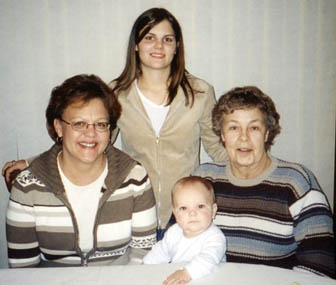 These are from the recent visit to SD, Noah is just an angel!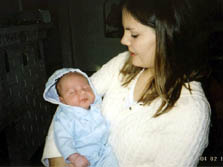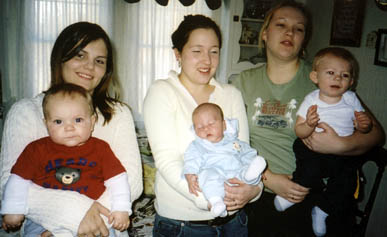 Davin, Noah and Kaleb playing: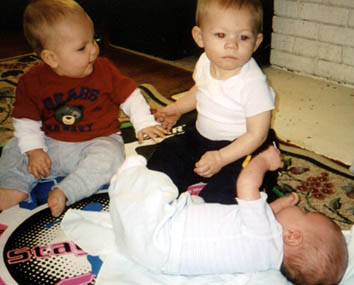 This was Jeremiah's graduation from Airman Leadership School, training for becoming a SSgt. He took home the big award also!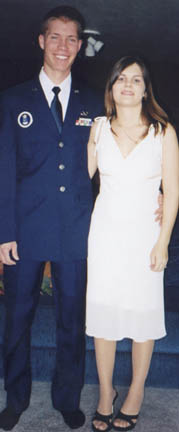 Davin and his favorite Daddy: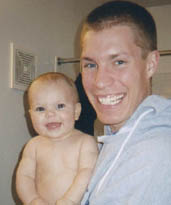 And I think he's working on a future career in plumbing…

Comments [2]
---
Halloween! ·
posted Nov 2, 04:31 PM
Davins Great Grandmother visited us from Colorado this past week. We had lots of fun. We went to the Botanical Gardens, Va Beach as well as put Davin in his costume to hand out candy…can you guess what he was?! He also started sitting up last week :) Also, Davin had his well baby check up a little over a week ago and he weighed in at 16lbs 7oz and was a whopping 26 inches long (90th percentile).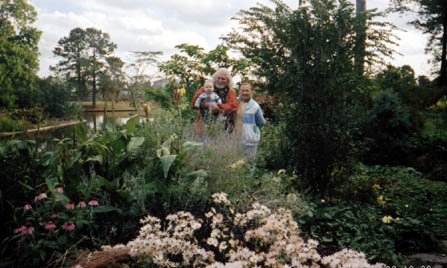 At the Pumpkin Patch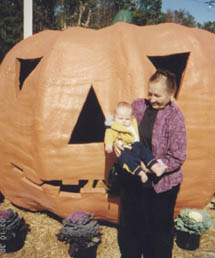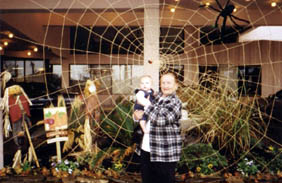 He's a DRAGON!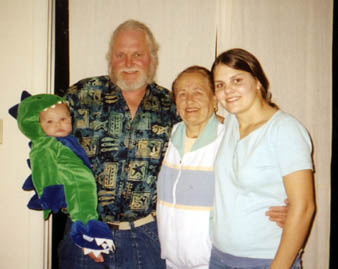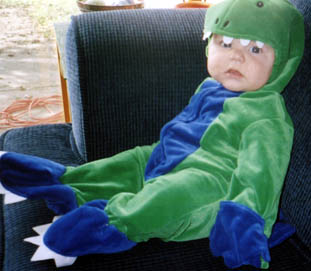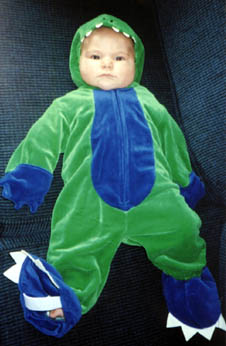 Sitting Up!!!!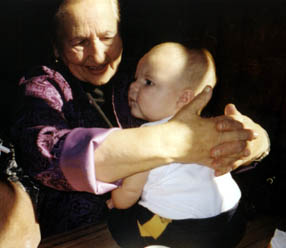 This months random cute smiles…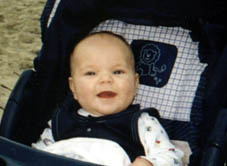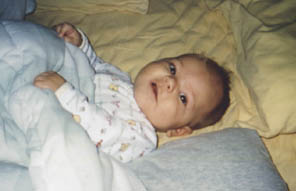 Comments [1]
---