This isn't his best reading, Chicken Little was being watched by Brendin and Davin said "I just can't stop watching, I want to see what happens next!" But I got him to perform just a little! He can sound out just about every 3 letter word you put in front of him. His only problem is if there's a picture near the words, he just puts a sentence or a word he thinks would describe the picture instead of reading, ha.

None the less, we are incredibly proud of him and can't believe that the first day we did hooked on phonics with him he could sound out words as if he's been practicing without telling us!

Pictures will be coming soon…I promise…:o)
Ok, see I told you I'd get pictures up!
The boys of course, loved the flight to Denver.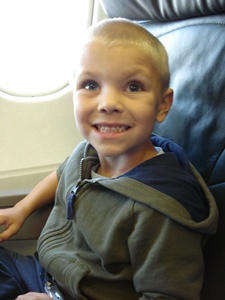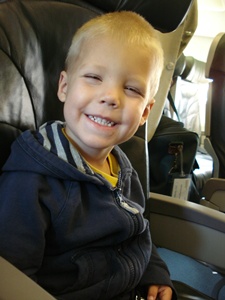 Time to drive to ND.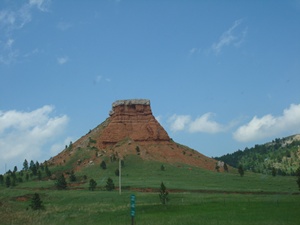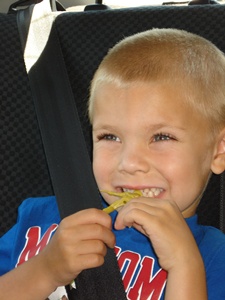 Brendin helping Don set up a lawn game.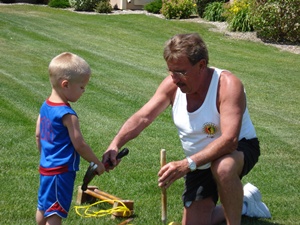 Floating around in the River.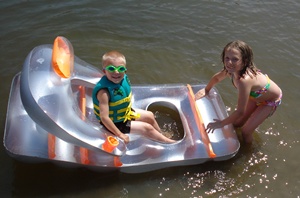 Uncle Shaky thought he would be faster than Davin…for best results take off cowboy boots!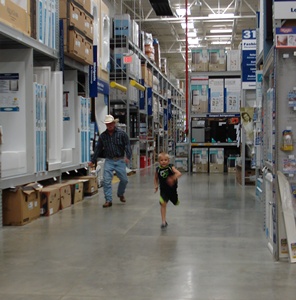 4th of July pictures. Davin thought it was pretty sweet. Brendin wanted to hang out in the car since some people across the River were shooting off really loud ones.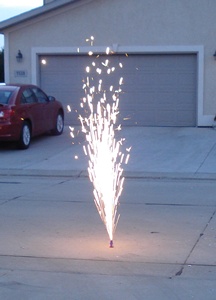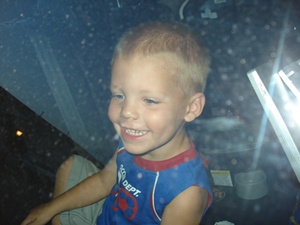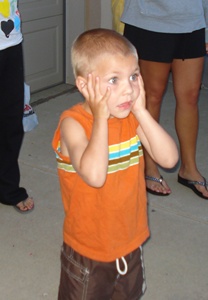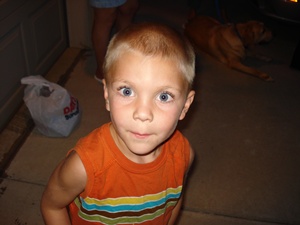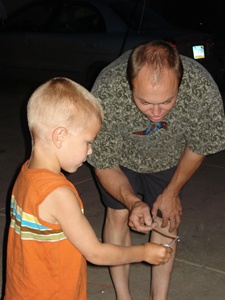 Don took the boys fishing off the dock. First they threw down some crackers (which I think it was made Brendin mad, he thinks that's wasting good crackers!) then put the hook in the water and waiting to catch a whopper. And as Don would say "Those SOB's put up a fight!".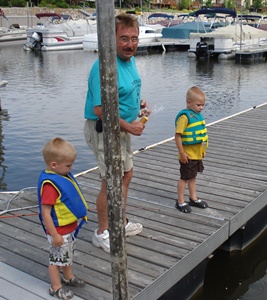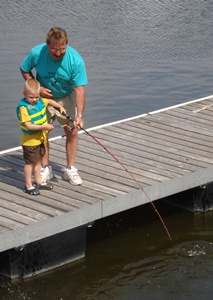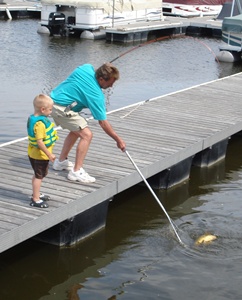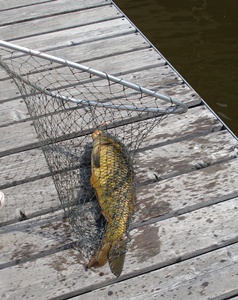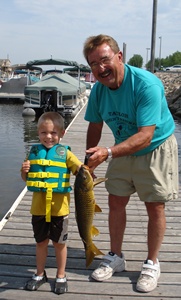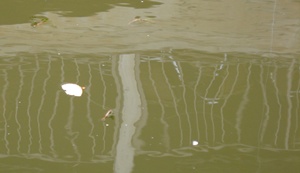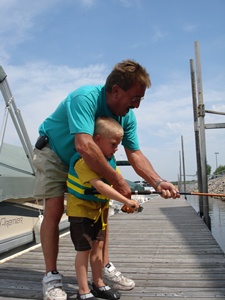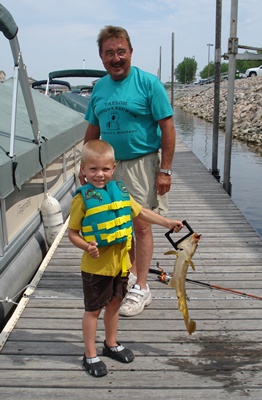 Thanks for the Birthday gifts Gma Deb and Gpa Don.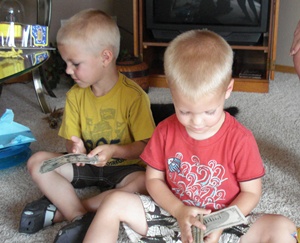 Hanging out and playin Chess with Buster. Oh yes, he knows how to play Chess…he knocks all the pieces off the bed and then he wins.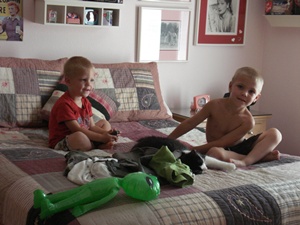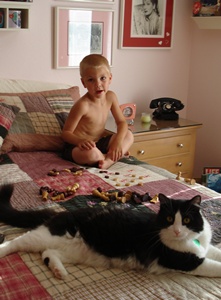 Tally, the sweetest doggy!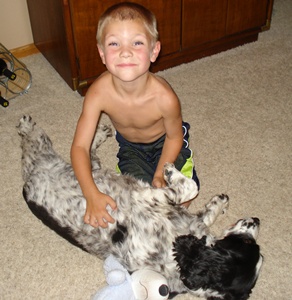 Three siblings (and one adoptee) trying to cause trouble!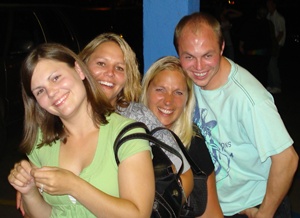 Makeing shishkebobs-Don was the photographer with one of those new fandangled digital cameras!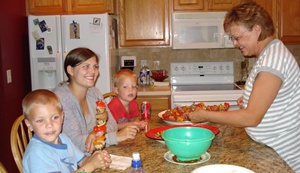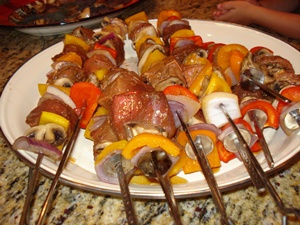 Davin wanted a big juicy steak, yes that is what he asked Grandpa for!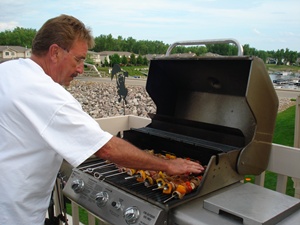 The Dakota Zoo…also known as the wet mosquito zoo that day!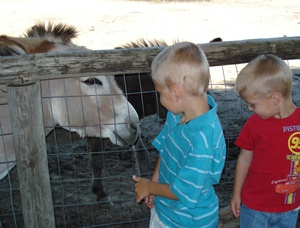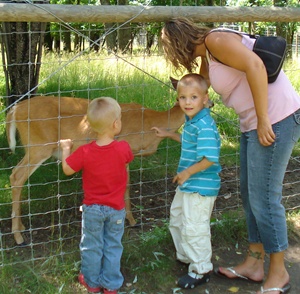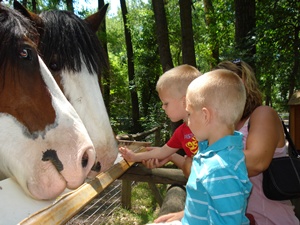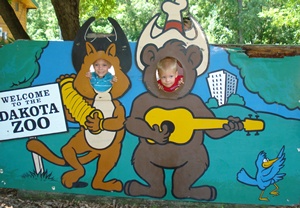 This guy thought Dede tasted good.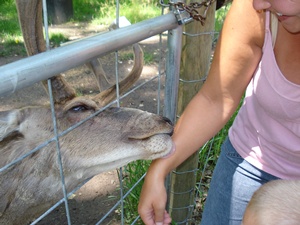 Two Kings at the Elks.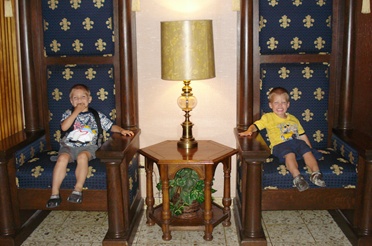 We had to go to Space Aliens twice while we were there.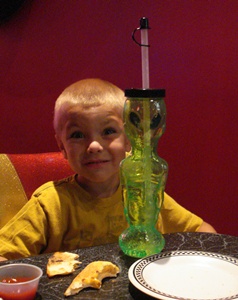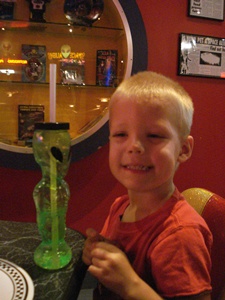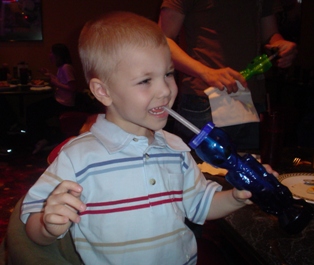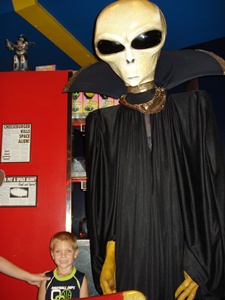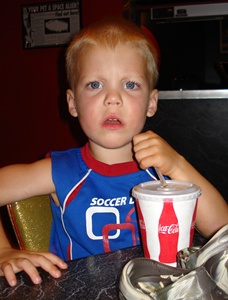 Brendin was under the table while the huge alien visited our table…he was glad to see him leave.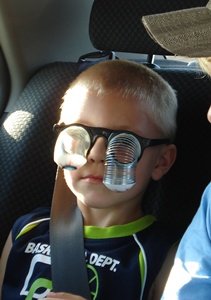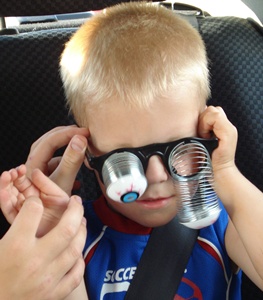 Brendin's Wall-E eyes.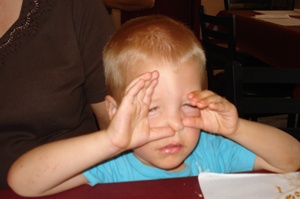 Time to do some bowling! Davin beat all of us….but I was in a close 2nd.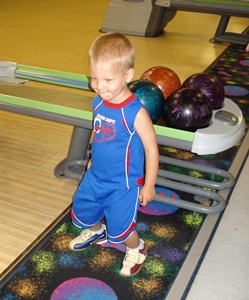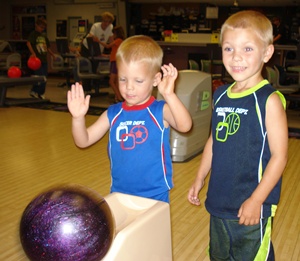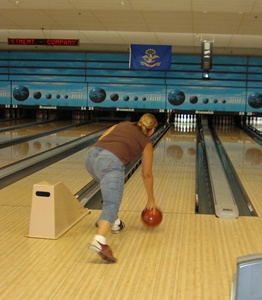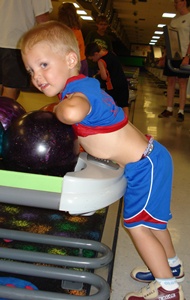 HAPPY BIRTHDAY GRANDMA DEB!!!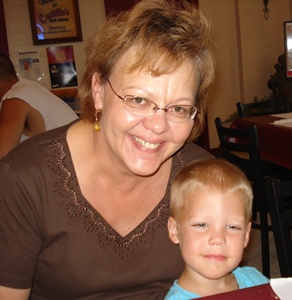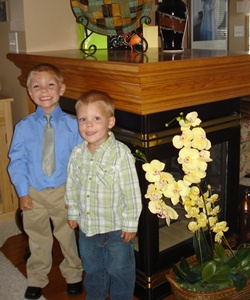 The boys had to be like Grandpa Don and have a toothpick. We ate dinner at the Seven Seas for Mom's birthday. Brendin fell asleep and Davin was super tired the whole time.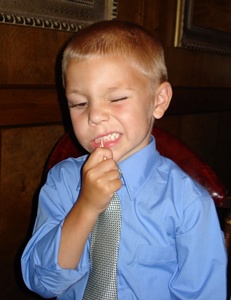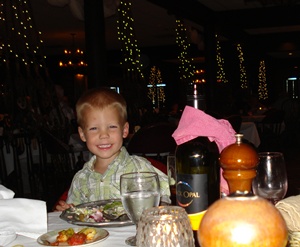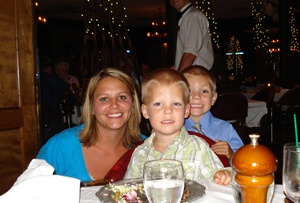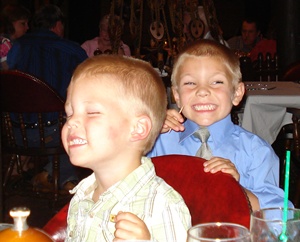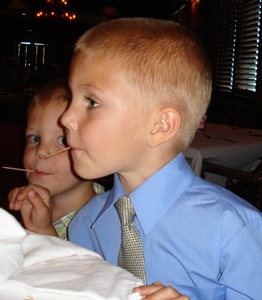 We got Grandma Deb a car with a cat, a card that farts and a DVD recorder…I think she liked them all!!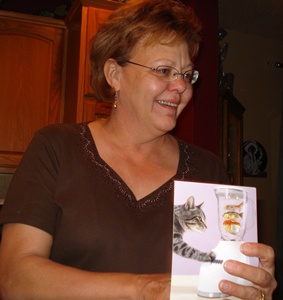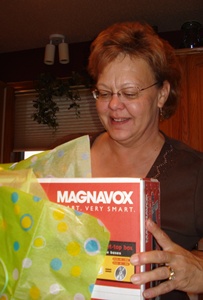 Mom, you can't get any older, Dede just about lit something on fire this year.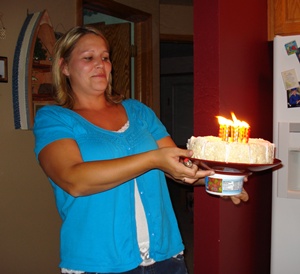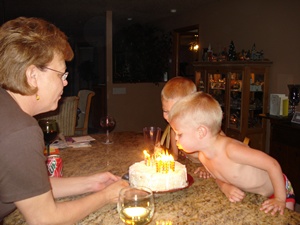 A stop at Grandma Roline's house.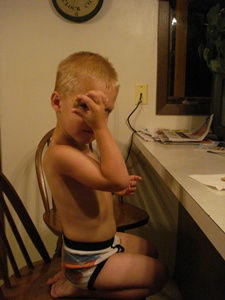 Another stop in Lead to see Grandpa Dave, Grandpa Jeff and Grandma Susan.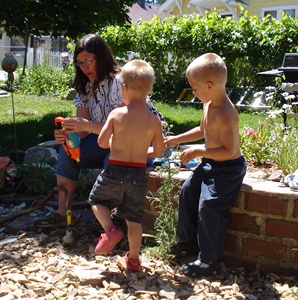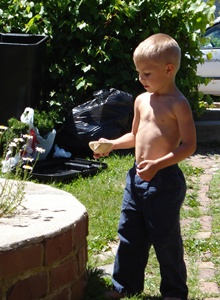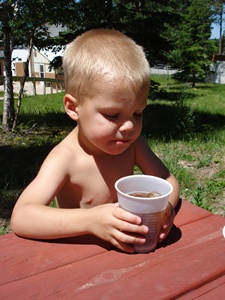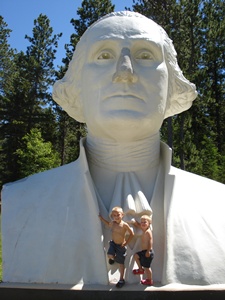 A stop in the Land of Love to visit our great friend Annie who showed us around!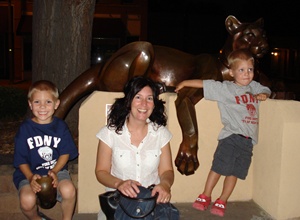 White House Farm in Denver.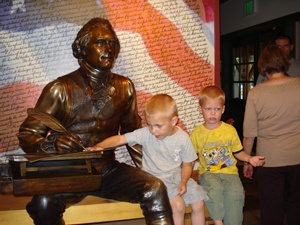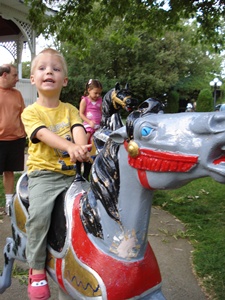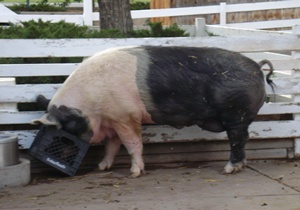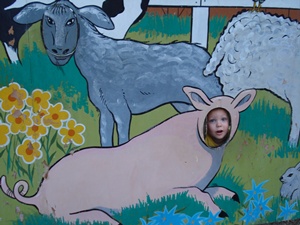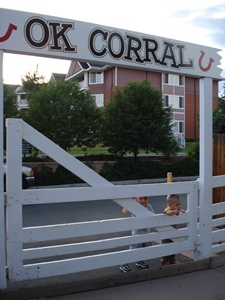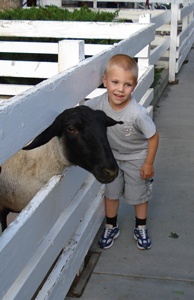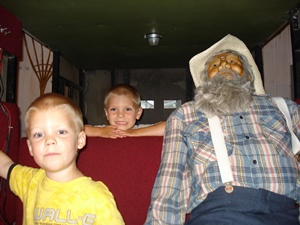 And of course, what's a trip to Denver without Casa Bonita?

Brendin was being the statue of liberty during the Puppet Show. Davin got to hit the Pinata and we got prime seats since it wasn't busy so we got to see all of the shows and still keep our table. A little bit better than when we go on Turkey Day!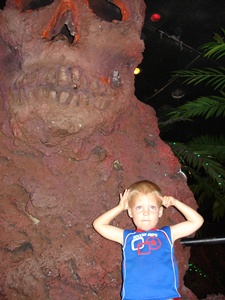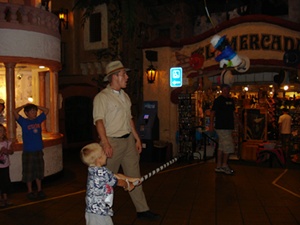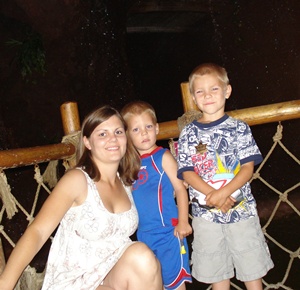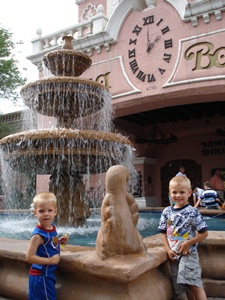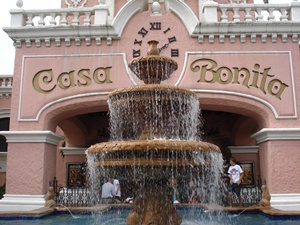 Hanging out with Grandma O, checking out her doll house, rock collection and playing with water balloons.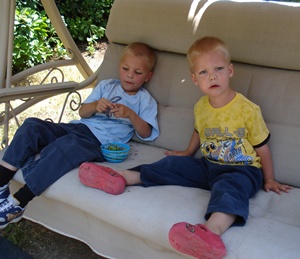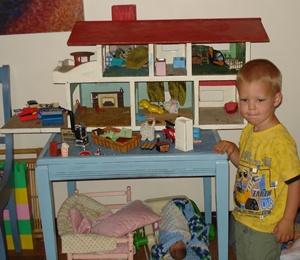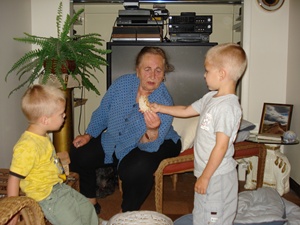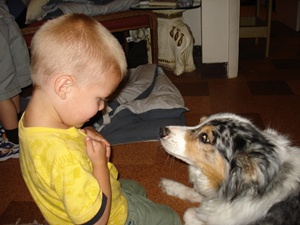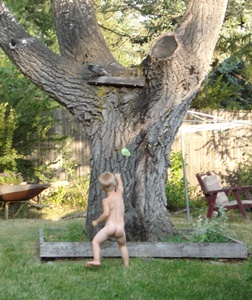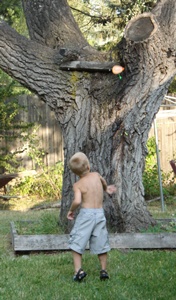 Time to fly back home and see Daddy!!!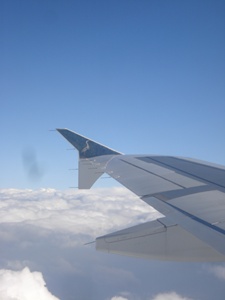 I know I still have older pictures to put up and hopefully I'll get the up before we move but we are planning a DITY (do it yourself) move so I probably won't have much time. But in less than 2 months we will be in San Angelo TX and at Christmas time we'll be back in Salt Lake City.
---