Well we've de-uglied our main bathroom upstairs and thought I'd throw the pictures up really quick. I hope to get another update in a couple of days of the family pictures. But we've been busy with company and of course, this bathroom!
Before #1 & #2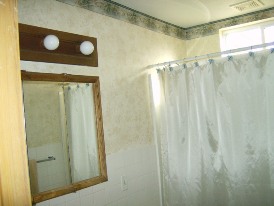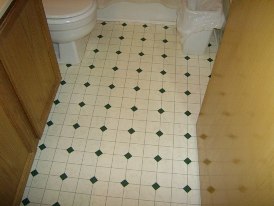 And after….ahhhhh LOVE the new toilet! It's so quiet and flushes so fast.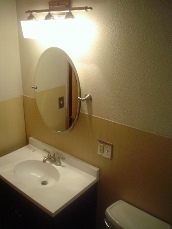 The vanity is espresso with a marble top sink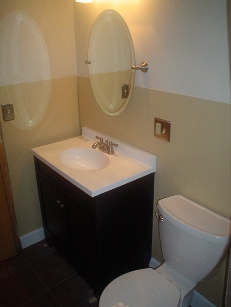 And of course they don't make this register cover anymore so I had to strip it of it's 5 or so layers of paint and repaint it…with appliance paint instead of wall paint so it actually looks normal! The walls are a creamy color on top and a buttery color on the wainscoting.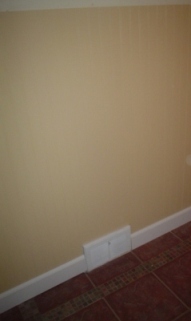 A close up of the african copper tile and border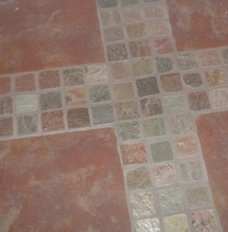 We took out everything but the tub (there was tile on the wall and a big hole behind the medicine cabinet…of course!). We had to patch and retexture the walls since the wall paper border was glued up with a hot glue gun (did I mention that I despise any and all wallpaper at this point??). We had the tile all laid out and ready to thinset down when Brendin a.k.a. King King went on a tangent and knocked a stool over and broke about 5 tiles…the tiles we were using were left over from Salt Lake so we had NONE to spare. But, this tile, even though we had all that extra work, looks a lot nicer!
And here's our new kitchen, not the greatest pictures but I'll get more up soon. The best feature of my new kitchen is the push button for the disposal. It's in the sink, where the sprayer would normally be. So no more drying off your hands so that you don't electrocute yourself on the switch! We put in large tile, a dishwasher and disposal which it iddn't have before. An over the stove microwave..pretty much everything is new…including the wiring. These walls ALL had 3 and 4 layers of wallpaper. The bottom layer was horrible looking…looks like George Washington on a horse! It took me, not days but WEEKS to get all of it off. And yes I tried fabric softener, vinegar, hot water, wallpaper stripper. Everything works equally BAD!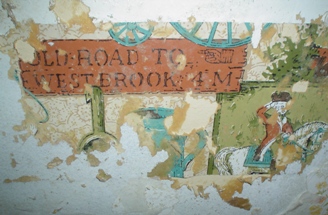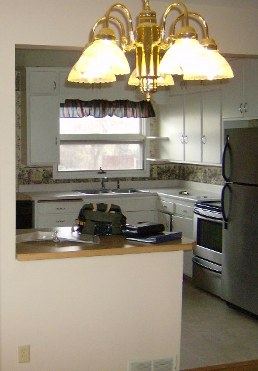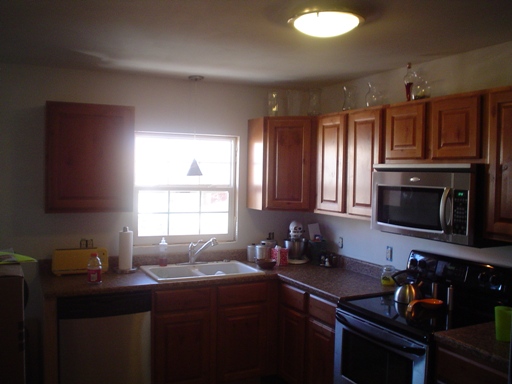 I will get more pictures up in my…spare time! Hope everyone is having a great April! And Happy Birthday to Jeremiah (a few days ago!)
---
Ok so I've neglected the site for 70 days... Lots of Random Pictures