We started having bad weather early Friday morning with wind and rain. The rain is not so unusual but with several inches of it and the wind it was like a mini hurricane. We left for lunch and when we came back there was a police barricade and they told us we couldn't go into our house and anyone there couldn't leave. So we drove around for a while thinking they might come and take care of it. They let us in later that afternoon but told us we couldn't leave. After we found out that close to a million people were without power we decided that we didn't want to sit around and see how long it took to restore ours! So we packed up and just started driving…the firemen were out there and not to happy to see us driving over the possibly live power line area but let us get through. There were two more trees down blocking the road but the van made it through. Almost 2 million were without power and now it's down to under 200,000 and we are one of those lucky few people!

I've been on the phone a ton and just about every time I call PG&E I get the same story that there is no record of our area having a power outage. Either that or they have no estimate of restore. So I just call several times a day and yesterday got a little fed up when I found out that part of the problem may have been that our property management company didn't have the tree removed and PG&E won't do tree work and won't work around a down tree. So I called our management company and she assured me that they had just started working on it last night. So this morning I called PG&E and told them the tree was supposed to be removed last night so they could send someone out. About an hour later I got a call from a PG&E worker saying he was out there right now and estimated time of restore is 3pm today. WAHOO. I'm sure our cats hate us after two weeks without us there and a strange guy feeding them and then a week without us and power! I know the lady who has the tree on her house is VERY upset that it was taking Pinnacle this long to take the tree off her house and the whole neighborhood isn't going to like hearing that that's the reason why our power wasn't being restored. At least they said they would help pay for hotels and our insurance company said part of our losses would be covered and PG&E is offering a small amount of money for people who lost power for a certain period of time.

The first picture is me standing at our front door looking onto the neighbors house. The others are front views where you can see the tree on their house and the power line smashed on the road with the wires hanging.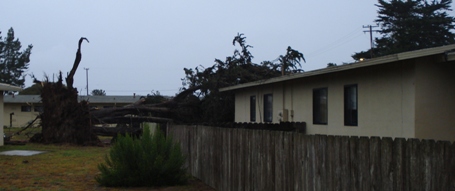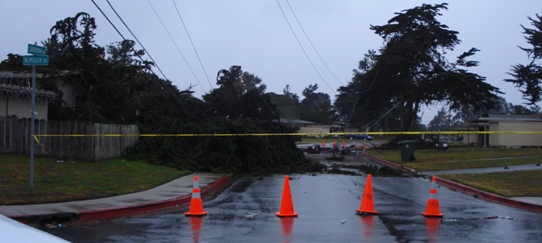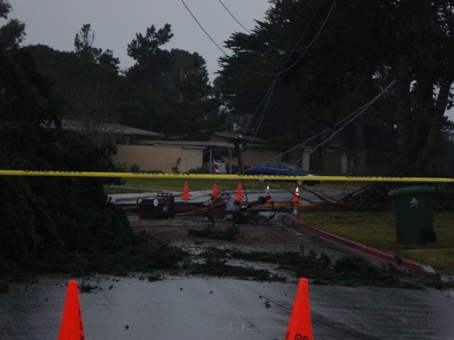 The bad news is they are predicting another storm for later today….right about the time they are supposed to get our new power pole up! Oh and Davin is so bored he came up with the grand idea that we should have a baby…for a pet because they like to play outside.
---