FINALLY ·
posted Dec 13, 04:04 PM
I am able to get pictures up again…45 days late…here are some Halloween pictures!
Brendin, taking his costume on a test drive…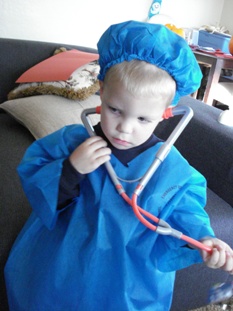 Strange guy at our mailbox.. :o)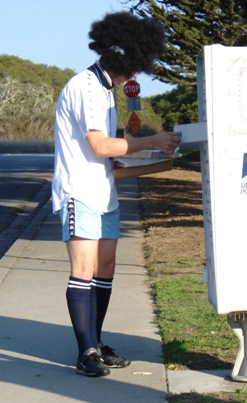 At the Rhino's costume soccer practice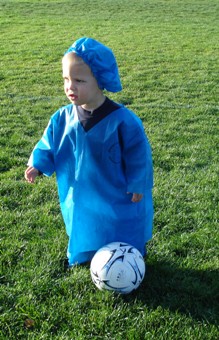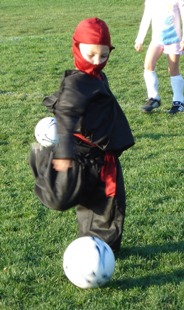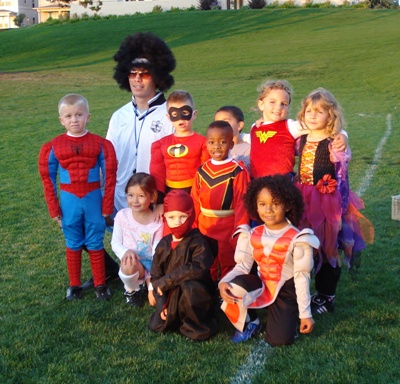 Testing out our witch that yells for help because she smashed into our house.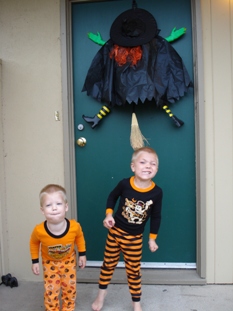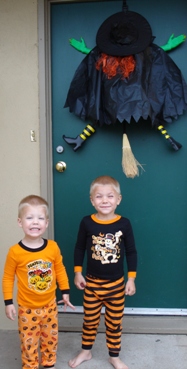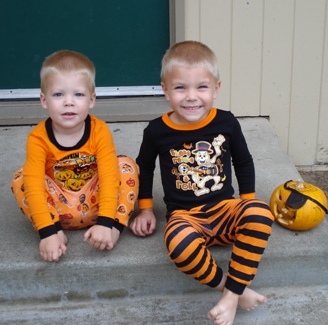 Out trick or treating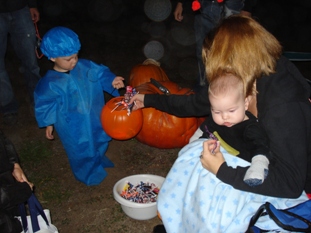 At the Church Halloween Party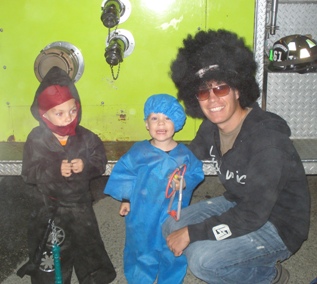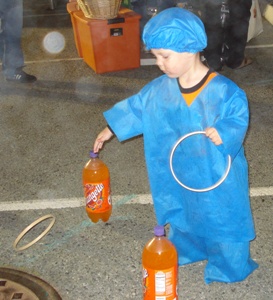 Jeremiah actually asking me what he supposed to do in this "Cake walk". I can't believe someone made it out of SD without ever doing or even seeing a cake walk! Needless to say he didn't win a cake.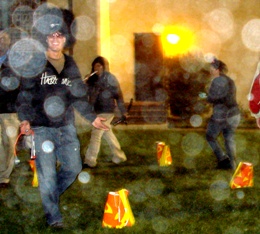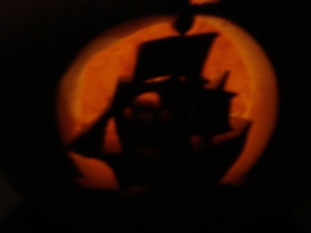 The focused Ninja in school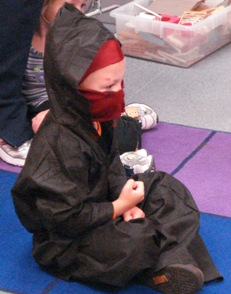 The last game of the season. In the 2nd picture Davin took a shot just as they were blowing the whistle and it so looked like it was going in but just barely missed. He still thought it was a pretty sweet shot!! I told him if the wind wouldn't have been blowing it would have been a goal!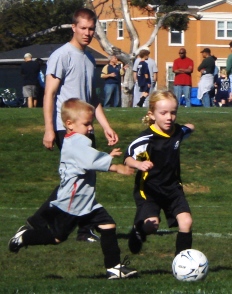 The end of the season pizza party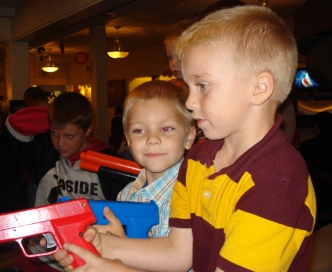 Davin's award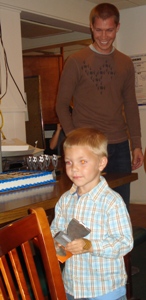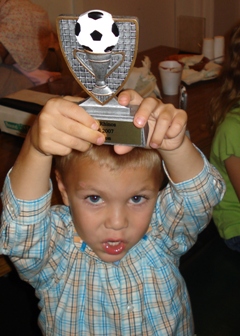 Jeremiah's picture that the whole soccer team signed. And all the parents signed a card and put in a gift certificate for us. We had a lot of fun coaching and had great parents and kids!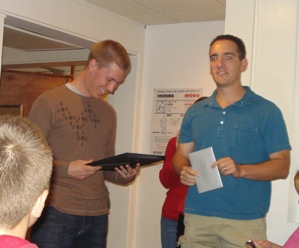 The medal that he got at the ceremony.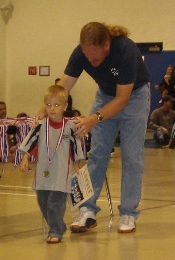 Brendin ran up to give him a kiss and a hug after he was presented with his medal and award!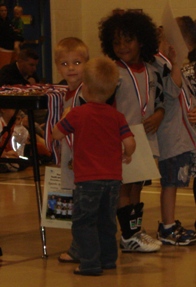 Brendin called the soccer ceremony the Soccermony!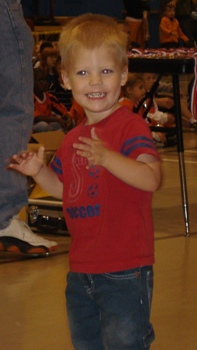 A day at the beach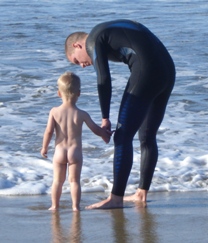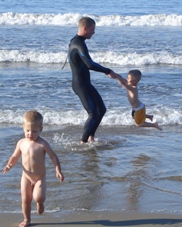 Just a little dizzy there Dad!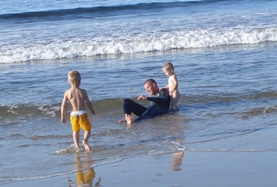 Ooooooh a sanddollar!!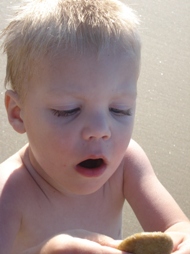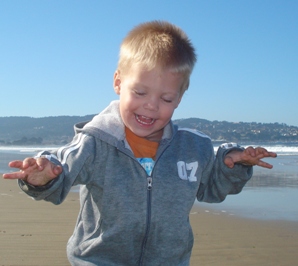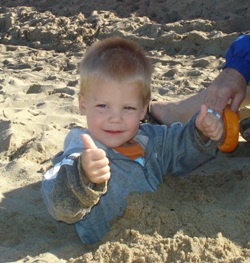 Trying on Mom's glasses for size to keep the sun out of his eyes.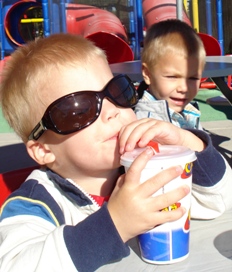 Brendin, so glad to see Mom after her trip to Vegas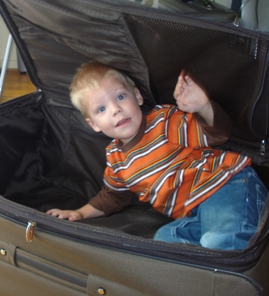 Jeremiah thought he'd take on the unruly waves of the ocean on Thanksgiving. They weren't very forgiving.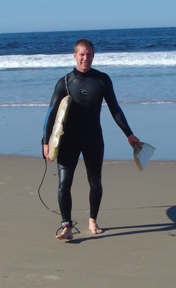 Maybe I can fix it?!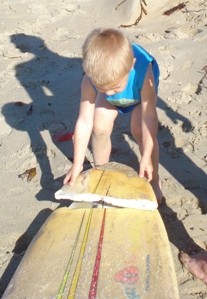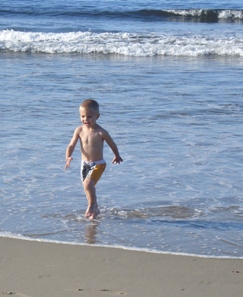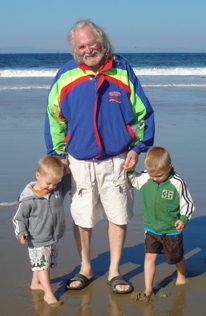 We found a frog by our back door in the courtyard so we adopted him over thanksgiving. We went and bought him a feast of crickets and named him "Court" of course!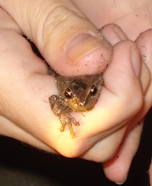 Mmmm Turkey Day! I got to cook a huge turkey dinner for my Dad who flew out for the whole week. The boys had lots of fun with Gramps! The morning after Thanksgiving when I gave Brendin his breakfast he said he wanted 5 more bowls of food on the table! Thankfully Thanksgiving is only once a year and I don't hae to cook that much food all the time!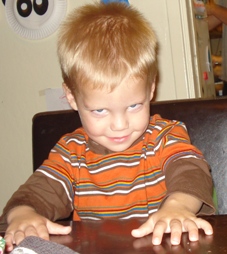 Brendin at the Preschool Turkey Dinner Party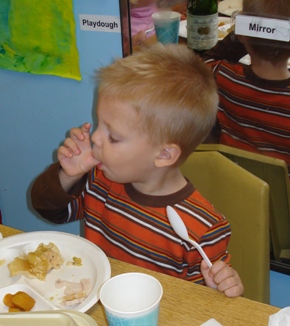 Davin thought the table and food looked just beautiful!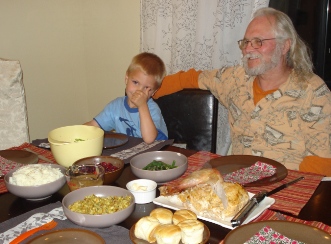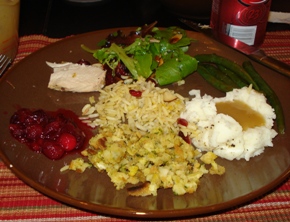 The raccoons got a bit of our leftovers!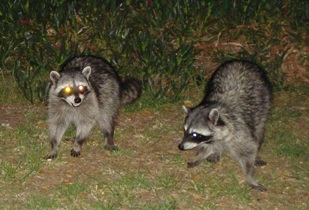 I'm ready for LA!!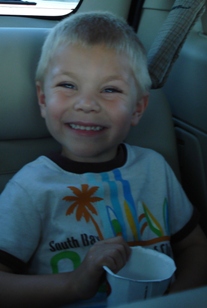 We decided to take Grandpa on a surprise trip to Disneyland! I'll have pictures of that up soon!
Note: I have a ton of emails that come back undeliverable from my updates. If you could email me at jj@mollman.com with your latest email address if you are NOT getting the updates and would like to get them. Thanks! Happy December!!
---